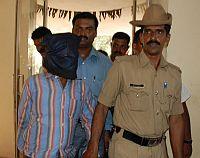 In a shocking incident, a serial killer in Mangalore has confessed to killing 18 girls in the past five years. He made the confession following his arrest on Wednesday by the Mangalore police.
Mohan Kumar, 46, a primary school teacher, who is a resident of Kanyana in Bantwal taluk, confessed to the police that he had murdered 18 girls. He said that he resigned from the post of school teacher in the year 2003 following which he committed the murders.
The police say that Kumar used to approach the girls and tell them that they resembled someone he knew. He used to then strike a conversation with them, asking them about their caste and family background. After a couple of meetings, he promised to marry them without insisting on dowry.
In some cases he was rejected, but in some he got his way. He then used to invite the girl to the temple and marry them. Later he took them home and had sex with them. The next day he used to tell them that they had unprotected sex and hence they needed to have some medicine. He then offered them some powder -- which was actually cyanide.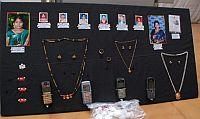 He has duped girls and murdered them since the past five years, the police informed. He comitted crime in places between Mangalore, Mysore, Madikeri, Bengaluru and Hassan, the police also revealed. In most of the cases he decamped with the girl's jewellery.
In his confession, Kumar said that he did all this to satisfy his sexual urge and at times to get a hold of jewellery the girl had. He also said that he had been married thrice before indulging in such acts. He also confessed that one of his wives was still around.
Western Range Director General of Police Gopal Hosur said that they got a tip off about his antecedents through a girl who Kumar tried to take for a ride.
Images: (top) Mohan Kumar in Mangalore police's custody and (below) jewellery, mobile phones and pictures of victims recovered from him
Photographs: Dayanand Kukkaje/Daiji World