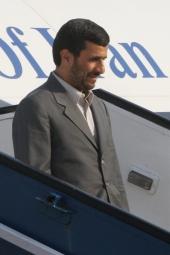 Iran has once again blamed Pakistan for Sunday's terror attack on the Islamic Revolution Guards Corps, in which 42 people were killed, saying there is specific information that the perpetrators were hiding inside Pakistan. Iran also asked Islamabad to clarify its stance over reports regarding its links to the banned terror group Jondollah.
Iran's Foreign Minister Manouchehr Mottaki alleged that that the Sunni rebel group, which carried out the deadly bombing, was based in Pakistan.
"This terrorist group has links with intelligence services which are based in the region, including in Pakistan and Afghanistan," The News quoted Mottaki as saying.
"We will cut off the hands of those who support them (Jondollah) from our country," Mottaki added.
Iran's Intelligence Minister Heydar Moslehi asked Islamabad to clarify its stance over reports regarding its links with Jondollah.
Moslehi alleged that Pakistan's premier intelligence agency, the Inter Services Intelligence, has close links with the Jondollah.
Pakistan, however, has dismissed allegations of supporting the terror group, saying Sunday's attack was aimed at spoiling its ties with Tehran.
"There are forces which are out to spoil our relations with Iran. But our ties are strong enough to counter these machinations," Foreign Ministry spokesperson Abdul Basit said.
Iranian President Mahmoud Ahmadinejad has already asked the Pakistan government to quickly apprehend and hand over 'some security agents' to Tehran, who were reportedly involved in the attack on the Revolutionary Guards.
"We were informed that some security agents in Pakistan are cooperating with the main elements of this terrorist incident. We regard it as our right to demand these criminals from them," Ahmadinejad had said earlier.
According to television reports, Iran's foreign ministry had summoned a senior Pakistani diplomat in Tehran, saying there was evidence 'the perpetrators of the attack came to Iran from Pakistan.' 
Image: Iranian President Mahmoud Ahmadinejad