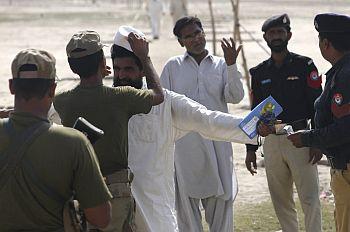 Pakistani jets and artillery pounded Taliban bases for the second day on Sunday killing 60 militants in the lawless Waziristan region as ground forces continued their push into the strongholds of the Taliban and captured two key towns from them despite stiff resistance.
Five soldiers were also killed and 11 more injured in clashes that erupted on Saturday after thousands of troops began advancing from three directions towards areas inhabited by the Mehsud tribe, considered the main base of the Tehrik-e-Taliban Pakistan led by Hakimullah Mehsud.
The Inter-Services Public Relations said 60 militants had been killed over the past 24 hours during 'Operation Rah-e-Nijat' (Path to Salvation), the codename for the offensive in South Waziristan.
TV news channels reported that jets targeted militant positions in Ladha and Sarvakai, two key strongholds of the Taliban. Check posts have also been established in Kotkai, where Taliban chief Hakimullah Mehsud's home is located.
Thirty militants and two soldiers were killed as troops moving along the Jandola-Kotkai-Sararogha axis secured the areas up to Mandana, Kund and Tarakai.
Four soldiers and many militants were injured in this region. Security forces have taken control of Spinkay Raghzai and Ghazai areas in South Waziristan following fierce fighting on Saturday, even as militants offered 'stiff resistance' at Shahwangi and Khesora areas, officials said.
Troops moving along the Shakai-Kaniguram-Ladha axis moved seven kilometres into Taliban-held territory and captured strategic features. Fighting is going on around Sherwangi, where security forces have been facing stiff resistance since Saturday.
Twenty militants and a soldier were killed in this area, the military said. Security forces had also secured important features and tactical heights around and south of Razmak, a key town in North Waziristan that is being used as one of the staging posts for the operations. Ten militants and two soldiers were killed in this area. Four soldiers, including two officers, were also injured.
As the troops pushed into Taliban-held areas, they destroyed several vehicles and six 12.7mm anti-aircraft gun positions. Another gun position was captured in Wuzi Sar area. The troops also recovered improvised explosive devices, mines, arms and ammunition.
Military spokesman Major General Athar Abbas has said the offensive has been launched to 'dismantle the network' of the Tehrik-e-Taliban Pakistan and to flush out militants in South Waziristan who were responsible for 80 per cent of recent attacks in the country. The military's casualty figures could not be verified as all access to South Waziristan has been cut off.
The operation was launched on Saturday after leaders of Pakistan's main political parties endorsed the government's plans to root out terrorism by taking on the Taliban in South Waziristan, saying they posed a threat to the country's integrity.
Pakistan Prime Minister Yousuf Raza Gilani had convened a meeting of political leaders on Friday at which they were briefed by army chief Gen Ashfaq Parvez Kayani about the need for an operation in the tribal region.
Before troops moved into areas inhabited by the Mehsud tribe, authorities imposed curfew and the military besieged the region by closing all key roads.
Over the past few months, jets and artillery have pounded the region to soften the Taliban's defences. The army has mobilised two divisions or about 28,000 troops for the offensive. About 10,000 Taliban fighters, including 1,500 foreign fighters, are believed to be present in South Waziristan.
The operation has sparked a massive exodus of people. About 10,000 families have so far fled from the tribal belt to safe places like Dera Ismail Khan, Bannu and Tank in the North West Frontier Province.
NWFP Information Minister Mian Iftikhar Hussain said house owners and all property dealers had been warned to ascertain the identity of people while renting out their homes.
Tariq Hayat Khan, law and order secretary for the Federally Administered Tribal Areas, of which South Waziristan is part, told Al-Jazeera channel that he expected the operation to be successful despite the area's rugged terrain.
"A lot of planning has gone into it... This offensive is against people who have chosen to take up arms against Pakistan, who have chosen to fight against Pakistani troops and target innocent Pakistani civilians," he said.
The government decided to act against the Taliban after militants stepped up attacks on government installations, especially offices of law enforcement agencies across the country.
The attacks were carried out by the Taliban to avenge the killing of their chief Baitullah Mehsud in a US drone attack on August 5. Over the past two weeks, terrorists carried out a series of audacious attacks, including an assault on the army's General Headquarters in Rawalpindi and strikes in quick succession on security facilities and public places in Lahore, Islamabad, Kohat, Peshawar and Quetta.
Text: PTI
Image: Men fleeing a military offensive in South Waziristan are checked by police after arriving at a registration point for internally displaced persons in Dera Ismail Khan on Sunday
Photograph: Faisal Mahmood / Reuters