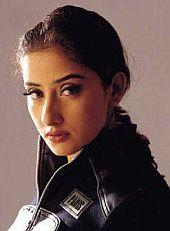 Bollywood star Manisha Koirala has made a high-profile visit to the memorial of her grandfather B P Koirala, the first elected Prime Minister of Nepal, fuelling speculation that the Nepali beauty was set to join politics.
Manisha visited B P Memorial Museum in eastern Kathmandu accompanied by her mother Sushma and father Prakash Koirala, who is in political wilderness after serving in the dethroned king Gyanendra's last cabinet.
"I honour the sentiments of B P Koirala, and after visiting this museum I have got a sense of responsibility towards my country," wrote Manisha, who spent over two hours at the memorial.
Manisha, who recently arrived in the capital from Kashmir where she has a shooting assignment, told mediapersons that she has developed interest in politics and like superstar Amitabh Bachchan and other actors-turned-politicians.
The comments by the Bollywood actress is seen as significant amid growing stature of Nepal Deputy Prime Minister Sujata Koirala, the daughter of Nepali Congress president G P Koirala, and the expulsion of Prakash from the party.
Prakash, a staunch royalist, was a minister in 2005 Gyananedra's cabinet. He was expelled by the Nepali Congress for his support of Gyananedra's 2005-06 autocratic regime.