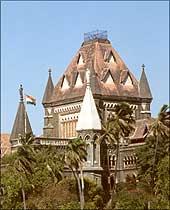 The Bombay High Court on Friday upheld a lower court's order discharging former Mumbai police commissioner Ram Deo Tyagi and eight others, but observed that the firing in Suleiman Bakery by the police during the 1993 Mumbai riots was 'cruel and atrocious'.
Justice Mridula Bhatkar upheld the trial court's conclusion that Tyagi -- a joint commissioner at the time -- and eight other policemen had no intention to murder. Eight persons were killed and 12 injured in the firing inside the bakery, in south Mumbai's Pydhonie area, when the city was ravaged by communal riots after the demolition of the Babri Masjid.
"The learned trial judge has rightly observed that the firing in the bakery was unnecessary. Indeed, it was a cruel and atrocious act on the part of the police. In the case of communal riots, a humane and sensitive approach is expected," Bhatkar said.
But at the same time, Bhatkar added, "There is no sufficient evidence against respondent no.2 (Tyagi) and other respondents that they had common intention to murder the inmates in the bakery."
On January 9, 1993, Tyagi and his team reached the spot when they were informed that some rioters were firing at the police from the terrace of the bakery. Tyagi asked his men to break open the door of the bakery and go in.
Incidentally, during the search, no firearms were found inside the bakery and the Justice Srikrishna Commission, which probed the communal riots, had held that the firing was unwarranted. The state government then filed cases of murder and other offences against Tyagi and 17 other policemen. In April 2003, the trial court discharged Tyagi and eight others from the case.
Though the state did not appeal against the trial court judgment, one of the injured filed a revision application in the high court, challenging the discharge. His lawyers, Yusuf Muchalla and others, argued that Tyagi's order to break open the door was unnecessary, as the bakery was peaceful, thus reflecting his intention to murder.
But the Bombay High Court, while agreeing with the trial court's order, observed that the policemen's actions must be examined in the context of the events happening in the area.
"The entire area was charged with hostile emotions between the Hindu and Muslim communities. The atmosphere was full of tension and distrust. Under such circumstances, the order to break open the door was very much within the power of Tyagi," Bhatkar said.