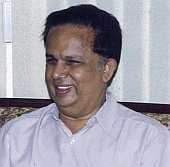 Indian Space Research Organisation chief G Madhavan Nair, who is to retire by this month-end after an illustrious career at the space agency, bemoans that the country's higher education system is not up to the mark, churning out graduates only for routine jobs.
Nair, also secretary in the Department of Space, has called for improving quality to produce high-class technologists and scientists.
"The level of education and knowledge being imparted by many colleges... they are not up to the mark. Instead of concentrating on quantity, these institutions should concentrate on quality," he told PTI in an interview.
"I am not happy with the education system in the country. The bulk of applicants (who applied for scientific and engineering jobs at ISRO this year)... they are not able to get even 50 per cent marks in our entrance tests."
Nair said if the quality level is not up to the mark, then one would only get people for clerical or routine jobs. If real technologists for manufacturing and scientific research were to be produced, the quality had to be far better.
Appointed as ISRO chairman, Nair's tenure saw realisation of 27 space missions, of which 25 were successful, with India's maiden moon mission Chandrayaan-1 being the pinnacle of glory for the country's space agency.
Nair got two extensions in 2005 and 2007.
Nair is proud of work culture in ISRO. "Work culture we have developed in ISRO... if I can contribute that work culture in other R & D departments in the country, perhaps the country can flourish much more," he said.

He said India needs to progress faster in building aircraft indigenously and solar cells.

"We have made rockets, we have made satellites; aircraft we have not done much. So it is high time we have our own indigenous aircraft."

Nair, a member of governing councils of the National Aerospace Laboratories and Hindustan Aeronautics Limited, said the two organisations are preparing a project report in this regard and will submit it to Central Government for approval.

ISRO is also exploring the possibility of putting together a team to work on efficient solar cells. The ISRO chairman is stepping down at a time when the space agency is about to launch Geosynchronous Launch Vehicle (GSLV) with an indigenous cryogenic engine and stage that Indian space scientists started working on in 1996.
The home-made cryogenic engine and stage would make India self-reliant in all aspects of launch vehicle technology. Indigenous development of cryogenic stage was taken up for achieving self reliance in cryogenic propulsion technology, following the technology denial regime in early 1990's.

Technological challenges during development stage, include development of new materials, composite thermal insulation, new fabrication techniques, handling of cryogenic fluids at cryogenic temperatures, realisation of facilities for assembly, integration and testing and associated safety systems.