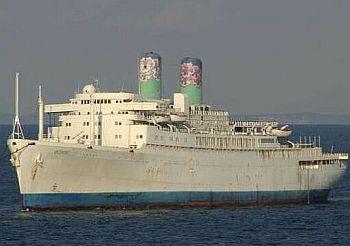 India on Thursday denied permission to a US ship allegedly containing toxic waste to anchor at the Alang ship breaking yard on the Gujarat coast.
New Delhi has sent a firm message to first world countries that India can't be used as a dumping yard for their wastes.
The US Ship, Platinum-2, is currently anchored at Gopnath Port near Alang.
The Union Environment and Forest Ministry has asked the Gujarat Pollution Control Board to submit a report about the materials, onboard the ship.
The ministry has also asked the GPCB to verify whether the ship has complied with Supreme Court guidelines issued on October 7.
The contentious ship was given permission to anchor on October 8, after a desk review, wherein the Gujarat Maritime Board (GMB), Gujarat Pollution Control Board (GPCB) and Customs gave the clearance.
A section of the media, suspected that the ship could be the SS Independence, which was earlier banned by the US Environment Protection Agency (USEPA).
The ship was reportedly renamed SS Oceanic, which lay idle at Dubai for over a year before being rechristened as the Platinum-2.
Earlier, pro-environment groups in Gujarat had alleged that a retired US ship, containing toxic substances, had anchored at Bhavnagar Port for being dismantled at the Alang ship-breaking yard.
Environmentalists have alleged that Platinum-2 contains radioactive waste. The US had earlier penalised two companies for attempting to move the ship out of US waters without decontaminating it.
The apex court has passed a ruling that ships should only be permitted to be broken down in the country after prior decontamination.

Image courtesy: ssmaritime.net