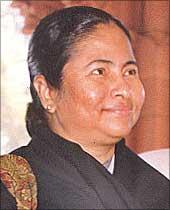 Trinamool Congress chief Mamata Banerjee on Wednesday demanded immediate withdrawal of joint security forces from trouble-hit Lalgarh, alleging that the Communist Party of India - Marxist had used the security operation to unleash terror in a bid to regain control of the area.
"We demand that the Centre take steps to ensure withdrawal of the joint forces at Lalgarh where the CPI-M is capturing village after village with the help of joint forces," she told reporters after a party meeting in Kolkata.
The Maoists and the CPI-M were hand-in-glove and both were torturing innocent villagers in the region, she alleged, adding that immediate steps should be taken to initiate economic development in the region.
Banerjee said her party was opposed to violence and killing of individuals, but claimed that the actions being undertaken under the pretext of a joint operation were a 'farce'. She claimed that only the CPI-M was allowed to hold meetings in the area while curbs were imposed on Opposition parties in West Midnapore district, where Lalgarh is located.
The state administration had clamped prohibitory orders over 80 per cent of the area in the district, she alleged.
Banerjee demanded that all political parties be allowed to discharge their democratic functions there. She said that a party delegation would go to Delhi to press for the demand while another team would meet the state governor in Kolkata.