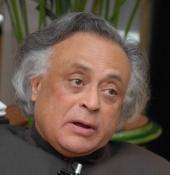 An inquiry has been ordered into reports that an allegedly radioactive contaminated ship from the United States has anchored at the ship-breaking yards of Alang in Gujarat, the government said on Wednesday.
"We have got complaints that a radioactive contaminated ship has anchored at Alang. We have already ordered an inquiry into the matter and hope to get the report within the next two days," said Union Environment Minister Jairam Ramesh.
He added that as per the reports, the ship had only anchored, but had not been breached or dismantled at the yard.
"We are also trying to find out the ownership of the ship," Ramesh said while reacting to the allegations by an NGO that the ship had been given permission to anchor after clearances by the Gujarat Maritime Board and the Gujarat Pollution Control Board.
Demanding that the ship be sent back to the US, the NGO claimed that it was an 'international fugitive' vessel.
"This 682-foot ocean liner is loaded with an estimated 210 tons of toxic polychlorinated biphenyl contaminated material and an estimated 250 tons of asbestos as part of its construction, which is lethal to the health of the workers as well to the environment," claimed a spokesperson from the NGO.