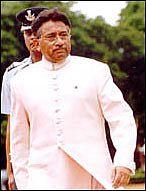 Following the Balochistan High Court's order, the Dera Bugti police has registered a case against former Pakistan President Pervez Musharraf in connection with Baloch leader Nawab Akbar Bugti's assassination.
Former Prime Minister Shaukat Aziz, former Interior Minister Aftab Ahmed Sherpao, and former Balochistan Chief Minister Jam Yousuf have also been booked in the case.
Earlier, the Balochistan High Court had directed the concerned authorities to register a case against Musharraf, Aziz and other leaders.

It may be noted that slain Baloch leader's son, Jamil Akbar Bugti had filed a petition in the Sibbi District and Sessions Court seeking a court order to register a case against Musharraf and other senior officials in connection with his father's death.
Jamil Bugti, in his petition, accused Musharraf and his associates of murdering Awami Jamhori Party leader Akbar Bugti.  The petition stated that a case should be registered against Musharraf, former Prime Minister Shaukat Aziz, former Interior Minister Aftab Sherpao and several others. Musharraf has already denied allegations of being involved in the Baloch leader's murder.
Musharraf said Bugti's death was an accident, and he was not killed by the security forces. "During the operation, our three army officers and other jawans found Bugti in a cave and they had requested him to lay down arms and at the same time the cave collapsed and he was killed along with our officers," Musharraf had said.
Image: Former Pakistan president Parvez Musharraf