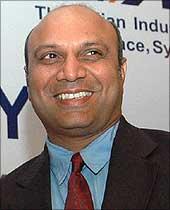 Recent incidents of terror attacks in Pakistan have highlighted gaps in the neighbouring country's security establishment and India is concerned over the possibility of its nuclear weapons falling into wrong hands, Minister of State for Defence M M Pallam Raju said on Wednesday.
"We share the worldwide concern about the nuclear arms falling into wrong hands and particularly so in Pakistan," he said on the sidelines of an event during the visit of Argentinian President Cristina Fernando de Kirchner.
Raju was asked if reports, about the involvement of a former Pakistani army official in Sunday's terror attack on the army headquarters in Rawalpindi, worried India about the safety of their nuclear arsenal.
"If you look at the recent happenings in Pakistan where the militants have stormed the army headquarters, which is not a good sign. This shows that there are several vulnerable gaps (in the security establishment)," he said.
In the attack on the Pakistan army headquarters in Rawalpindi, militants killed 13 people and took 40 people hostage, before they were eliminated. Aqeel, one of the militants captured alive, had once served in the Pakistan army medical services.
Raju hoped that Pakistan was taking adequate safeguards to protect its nuclear installations.
Asked if the international community was talking to Pakistan in this regard, he said, "The developed world realises the potential of nuclear weapons falling into the wrong hands. I am sure there are international concerns, which are conveyed to Pakistan, and we hope that Pakistan takes adequate measures about the matter."