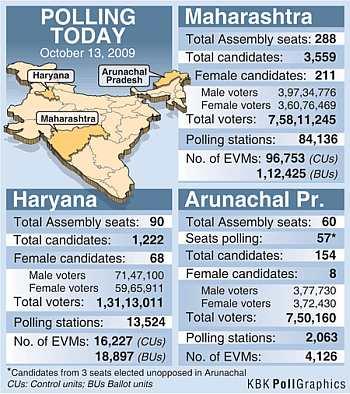 Polling to elect new assemblies in Maharashtra, Haryana and Arunachal Pradesh began early Tuesday morning, in the first crucial test of popularity for major political parties after the Lok Sabha polls six months ago.
Stakes are high for Congress which is the ruling party in Haryana and Arunachal Pradesh and shares power with Sharad Pawar-led Nationalist Congress Party in Maharashtra where the main opposition is in the form of Shiv Sena-BJP alliance, facing a make-or-break poll.
Elaborate security arrangements have been made by the Election Commission, which has taken special measures to ensure peaceful polling, particularly in Naxal-hit areas of Maharashtra.
While the campaign was by and large peaceful, Naxalites struck in Gadchiroli in Maharashtra last week, killing 17 policemen in an ambush five days before the polls. The EC has deployed 18,000 central police forces in Maharashtra alone to ensure peaceful polling.
The over four week-long electioneering saw top leaders of Congress, BJP and other major players of regional parties hitting the campaign trail.
Congress President Sonia Gandhi, party general secretary Rahul Gandhi and Prime Minister Manmohan Singh undertook whirlwind tours of the three states while L K Advani, Rajnath Singh, Sushma Swaraj, Arun Jaitley and M Venkaiah Naidu led the BJP's charge.


Congress is seeking to retain power in Maharashtra with its ally NCP for a third consecutive term. The Shiv Sena-BJP combine is also leaving no stone unturned to wrest power in the state, which it lost ten years ago.

NCP, a major partner of the Congress-led coalition, has been battling hard to retain its position after a poor showing in the Lok Sabha polls.

Amravati constituency has become the cynosure of all eyes as President Pratibha Patil's son Rajendra Shekhawat of Congress is pitted against party rebel Sunil Deshmukh in that seat.

In Haryana, Congress is seeking a second term in office on the plank of development and seems to be comfortably placed. The opposition in the state is a house divided with BJP snapping the tie-up with Om Prakash Chautala's INLD and BSP coming out of an alliance with Haryana Janhit Congress led by former Chief Minister Bhajan Lal.
After its impressive show in Lok Sabha poll when it won nine out of the ten seats in Haryana, Congress advanced the assembly election seven months ahead of schedule.
Congress appears to be on a strong wicket in Arunachal Pradesh where Chief Minister Khandu Dorjee is among three party candidates already elected unopposed.

Maharashtra has over 7.58 crore eligible voters to elect 288 MLAs while Haryana has 1.31 crore electors for choosing 90 legislators. Arunachal Pradesh has 7.50 lakh voters who can exercise their franchise to elect 60 representatives.

Counting of votes will take place on October 22.