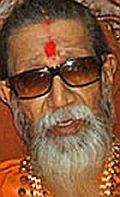 In a veiled attack on estranged nephew and Maharashtra Navnirman Sena chief Raj Thackeray, Shiv Sena supremo Bal Thackeray on Tuesday said, "People of Maharashtra should show those trying to divide Marathi votes, their proper place."
"Show them (those seeking to divide Marathi votes) that you are all Sena voters and won't tolerate any split in Marathi votes," Thackeray said in an editorial in Sena mouthpiece Saamna.
Last week, in a similar attack on estranged nephew Raj, 83-year-old Thackeray, had alleged that, "Congress is trying to divide Marathi people by taking some one's help."
Blaming people for electing Congress-led governments again and again, the Sena chief had said, "You know Congress is bad, but still you vote for that party."
Thackeray also said Maharashtra will see the exit of Congress-Nationalist Congress Party government and ushering in of the Shiv Sena-Bharatiya Janata Party alliance after the assembly elections.
"Shivshahi (Sena-BJP government) will come to power in the state," 83-year-old Thackeray told mediapersons after exercising his franchise at a polling booth near 'Matoshree', his residence in suburban Bandra, on Tuesday morning.
Thackeray's son Uddhav, who manages the party affairs, Uddhav's wife Rashmi and son Aditya accompanied the Sena chief to the polling booth.
Thackeray's estranged nephew and MNS chief Raj Thackeray cast his vote at a polling booth at Balmohan Vidyamandir in central Mumbai's Dadar area.
Asked about Congress candidate from Bandra, Jananrdan Chandurkar, allegedly distributed money to lure voters, Raj claimed, "That is what they (Congress) have been doing so far. This time, the frequency of money distributio is more."
On Bal Thackeray not voting in Lok Sabha polls but coming out to vote this time around, Raj said, "It is a good thing."
Image: Shiv Sena chief Bal Thackeray