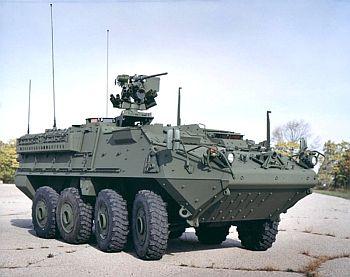 Using the ongoing Indo-US joint wargames Yudha Abhyas 09 as a platform, the US -- anxious to grab a major chunk of the lucrative Indian arms market -- will undertake live operations of its high-tech weaponry like the Stryker infantry armoured vehicles and Javelin anti-tank guided missiles.
Under the 18-day Yudha Abhyas 09 that began on Monday in Uttar Pradesh, the armies of US and India are undergoing training to share useful experience in peacekeeping operations and humanitarian activities during disaster management.
Of the artillery lot, the Stryker is reportedly the star attraction, as the infantry vehicle is the US Army's first new armoured vehicle in the last 20 years.
Incidentally, this will be the largest overseas deployment of the Stryker vehicles, after Iraq and Afghanistan, as the over 200 American soldiers have brought along 17 of the eight-wheeled armoured combat vehicles with them.
What's so special about Stryker
The Stryker is an eight-wheeled all-wheel-drive armored combat vehicle that is known for its lightweight and easy maintenance.
Most cables, hoses, and mechanical systems in the vehicle can be quickly disconnected for maintenance work, while the engine and transmission can be removed and reinstalled in approximately two hours.
Each Stryker costs around $1.5 million (nearly Rs 7 crore).
The vehicle can adjust the pressure on the eight tires depending on the surface driven -- highway, cross-country, mud, sand, snow, and emergency. The system in the vehicle alerts the driver in case of excessive pressure and adjusts the pressure automatically.
The system can also warn the driver of a flat tyre. And in case of one, the vehicle's run-flat tyre inserts serve as bead-locks, allowing it to move several miles before it collapses.
The Stryker is equipped with advanced weapons, CBRN (chemical, biological, radiological and nuclear) protection and C4I (command, control, communications, computers and intelligence) systems.
The fuel tanks in Strykers are externally mounted and in case of an explosion, they are designed to blow away from the vehicle's hull.
Being extensively computer-controlled, the soldiers can reduce 'friendly fires' during fights and the vehicle is equipped to distinguish between friendly and enemy vehicles.
Due to a day-night thermal imaging camera, the vehicle commander has an almost 360-degree field of vision from inside the vehicle. The driver has a 90-degree vision.
The driver and the vehicle commander have periscopes with which they can see outside the vehicle without being seen outside.
Designed for quick and secure movement of infantry to the field, the Stryker may suit India's needs for a combat vehicle, but will India be impressed enough to buy? Will have to wait and watch.
Image: The US Army's IAV Stryker