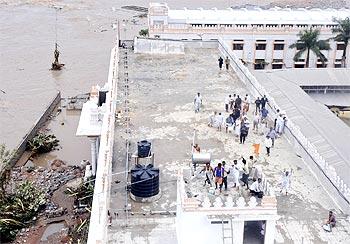 Karnataka Chief Minister BS Yeddyurappa has said that all villages that were marooned in the recent floods in Karnataka would be relocated to safer places.
Talking to reporters in Bengaluru on Sunday, Yeddyurappa said: "We are going to acquire about 5,000 acres of land for relocating the villages. We may require around 300 crores for the formation of sites and road and other purposes. For 1 lakh houses we require 1,000 crores. We have already collected about 700 crores. We require another 300 crores for the construction of houses in the area. So we have promised the people of Karnataka that within a year, we will shift all the flood-affected villages to a safe place."

The floods have wrecked havoc in northern parts of Karnataka, described by officials as the worst in many decades, killing over 280 people besides rendering several thousands homeless.
Floodwaters have swamped millions of acres of farmland and damaged standing crops of sugarcane, maize, rice and wheat.The loss of sugarcane has given rise to worries of sharp fall in the output of sugar in Karnataka, the country''s third-biggest producer.
Following the calamities, the Centre has already released the second installment of over Rs 209 crore from the Calamity Relief Fund. Prime Minister Manmohan Singh had announced  an ex-gratia of one lakh rupees each to the next of kin of those killed in the floods.
The Armed Forces have rescued 3,600 people in the states.
Image: Flood-affected people stand on top of a building in the flooded areas of Karnataka.