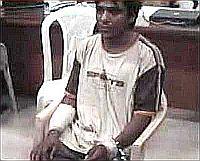 After facing trial in the Mumbai attack case for nearly six months, the lone surviving Pakistani gunman Ajmal Kasab on Monday said he had 'no faith' in Indian court and made a dramatic plea for transfer of the case to an international court.
But Judge M L Tahaliyani rejected 22-year-old Kasab's plea saying, "It is misconceived."
"I have no faith in Indian court and this case may be transferred to an International court," Kasab said in an application to the court. He had moved the application written in his own hand in Urdu. The application was filed through jail authorities who translated it into Marathi and produced before the court.
The judge asked Kasab whether he had written the application and he replied "Ji huzoor" (Yes, Sir). The trial of Kasab, whom police formally charged in February with several offences including 'waging war' against India, began on March 23 via a video link with his Arthur Road prison in Mumbai.
Kasab and other suspected Laskhar-e-Taiba operatives killed 166 people in a three-day rampage in the city on November 26 last.
In another development, the judge also rejected the plea of co-accused Fahim Ansari to stay the proceedings on the ground that he had filed a petition in the Bombay High Court seeking transfer of the 26/11 case to some other court alleging that the recording of evidence was incorrect.
"This is yet another attempt by the accused to delay the trial," noted judge Tahaliyani while rejecting Fahim's plea to stay the proceedings.
While stating that he had no trust in the trial court, Fahim had alleged that he was not being allowed to meet his wife and proceedings of the case were not being correctly recorded.
The judge, rejecting his plea to stay the trial, observed, "The accused is employing delay tactics. His wife has been issued a permanent pass to attend the proceedings. Fahim is also allowed to meet his wife every day and the meeting time also has been increased from time to time."
"Despite getting all such facilities, Fahim has been misusing them. Also, whenever he is asked queries, he does not cooperate and gives evasive answers," the court observed.
On the allegation that proceedings were not being correctly recorded, the judge said it was 'misconceived' and added that there was no provision in law to have an audio-visual recording of the trial.
"Fahim is perhaps being instigated by outsiders," the court noted. Fahim is facing the charge of conspiring with other accused in the terror attacks.
Police say they recovered maps of 26/11 terror locations which he allegedly handed over to LeT conspirators in Pakistan. The court has also issued contempt notice to Fahim asking him why contempt action should not be taken against him for making allegations against it in the application. 
Image: Mumbai terror attack accused Ajmal Kasab