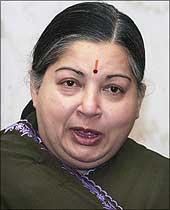 All India Anna Dravida Munnetra Kazhgam chief J. Jayalalithaa on Monday said the Centre should "go all out to eradicate" the Maoists.
"The Centre should take concrete measures in stopping extremism and terrorism in the country. It should also go all out to eradicate the Naxalites immediately," she told reporters in Chennai.
She expressed concern over the "contradictory" statements made by various political leaders across the country on handling the Maoist crisis. "It is also unfortunate to note such reports," she said.
On the Mullaperiyar dam issue, the former Tamil Nadu chief minister alleged that the state government had delayed in taking action on the matter.
Chief Minister M Karunanidhi had "failed" to take concrete steps in stopping the Centre from giving permission to Kerala to conduct survey for construction of new dam across the (inter-state) Mullaperiyar river, she said.
"Karunanidhi has betrayed people of Tamil Nadu on Mullaperiyar issue. He was aware of Kerala's activities since 2007 itself," she said.
Reacting to a question on the delegation of members of Parliament from the Dravida Munnetra Kazhgam, the Congress and the Viduthalai Chiruthaigal Katchi that left for Sri Lanka to get first-hand account of the conditions prevailing in camps housing Lankan Tamil refugees, she reiterated that an all party delegation should have been sent.
Stating that the delegation was only a "ruling party team", Jayalalithaa asked whether it would get to see "the real camps where the Tamils are interned". "It is only an eyewash," she alleged.
On the Pattali Makkal Katchi's exit from the AIADMK fold, she said her party was not going to lose anything. The PMK had snapped its six-month old ties with AIADMK on October 4, charging it with trying to implicate top PMK leaders in a "false" case.
Asked about Barack Obama winning the Nobel Peace Prize, Jayalalithaa said, "Award given to the US President is premature. He has not achieved anything so it is too early for such an award."
Image: AIADMK chief Jayalalithaa