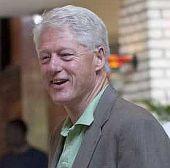 Improving relationship with Pakistan is key to India overtaking China and 'revolutionising' the 21st century to emerge as a global power, former United States President Bill Clinton has said.
"...if that one thing (improving ties with Pakistan) could be done by India, it would revolutionise the 21st century in ways no one can imagine," Clinton said at the PAN- IIT conference in Chicago.
"Try to find a way to keep making progress with the Pakistanis," Clinton said. He stated this when asked by an audience member what India must do to become a superpower and gain more influence at the United Nations and the G-20.
"If you did not have to raise defence spending 20 per cent a year and these countries could be working together I think you will grow faster than China," he said.
Clinton said the idea that the Chinese are going to dominate the 21st century is not necessarily true. "It depends mostly what you do and if you can continue to plough money into the development of the poor and reduce inequalities in India."
Clinton, who has time and again volunteered to help India and Pakistan resolve the issue of Kashmir, suggested going for the IIT model as the model of the future 'and not the standoffs of 1971 or the fights over Kashmir or whatever.'
Acknowledging that it is 'easier to say than to do,' Clinton said, "I know that especially after what happened in Mumbai. I watched the hotel room I always stay in burning, I know that but if that one thing could be done by India it would revolutionise the 21st century in ways no one can imagine."
Clinton argued that this would help reduce the nuclear threat the world faces as also the rush in all these countries to produce atomic weapons and it would indirectly reduce tensions in the Middle East.
The same thing is true in Afghanistan, he noted. "I just think that if India and Pakistan can work together then they can even overtake China in the 21st century," Clinton argued.
"Every time India does something (development work) in Afghanistan, Pakistan thinks it is directed against it and vice versa but the truth is if the two countries could find a way to work together and do common projects there, it would stabilise Afghanistan and bring it into the 21st century," Clinton said.
"In an interdependent world it is a prescription for disaster when you can't get away from your neighbour. You have to have a non zero sum game where both sides can win," he said.
© Copyright 2023 PTI. All rights reserved. Republication or redistribution of PTI content, including by framing or similar means, is expressly prohibited without the prior written consent.