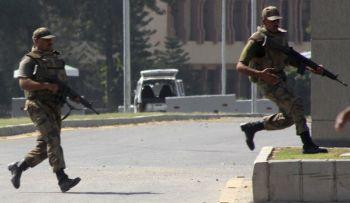 Eight of the people held hostage by Taliban militants near the Pakistan Army headquarters in Rawalpindi have been freed, reported Pakistani daily Dawn News.
Taliban terrorists were till late on Saturday night holding at least seven hostages, including security personnel, hours after launching an audacious attack on Pakistan Army's headquarters in nearby Rawalpindi that triggered a fierce gun battle in which a Brigadier, a Lt Col and four other armymen were killed.
While the casualties in the shootout following the assault by heavily-armed Taliban militants included a Lt Colonel, four terrorists were also killed.
The hostages include some civilian employees in the army headquarters.
At least eight militants armed with assault rifles and grenades, dressed in military uniform, came in a white van and opened fire when they were challenged by the armymen at a check-post near a cricket stadium outside the fortified general headquarters of army at 11.30 am.
The army initially claimed that the situation was under control. But in the night, chief military spokesman Major Gen Athar Abbas said four to five terrorists were holding about 10 to 15 security personnel and civilian employees hostage in the building. The terrorists are armed and had explosives.
Abbas said troops were taking steps to "save as many lives as possible" but declined to give details.
Asked if the terrorists holed up inside the building had made any demands, Abbas said, "This is too sensitive an issue and I can't share details with the media right now."
On Tehrik-e-Taliban claiming responsibility for the attack, he said: "We don't know about the veracity of the claim and will let you know once the intelligence agencies give their report."
Over nine hours after the assault began, scores of army commandos and policemen surrounded a security office near the heavily guarded general headquarters complex where the hostages were being held.
There were reports that officials had established contacts with the terrorists to ensure a peaceful resolution of the hostage crisis. The terrorists were asked to surrender unconditionally.
Earlier in the day, the heavily armed terrorists who came in a van, opened fire at a check post after being challenged, killing all soldiers stationed there.
They then left their van and ran towards another check post, sparking a gun battle that lasted 45 minutes.
Four terrorists and six soldiers, including a brigadier and a lieutenant colonel, were killed in the fierce skirmish.
Abbas said a total of eight to 10 terrorists were involved in the attack.
Abbas initially told reporters that soldiers had foiled the attempt by terrorists to enter the General Headquarters and that the situation was "fully under control". However, gunfire erupted again shortly after he spoke to the media.
Image: Soldiers take their positions during the attack on Pakistan army headquarters | Photograph: Reuters