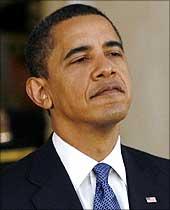 It was a surprise email for Supreme Court lawyer Surat Singh from his "friend" US President Barack Obama, saying that he honestly did not feel that he deserved to be a Nobel laureate.
Singh, who studied alongwith Obama at the Harvard Law School 21 years ago, was earlier also invited by the US President for his inaugural ceremony in Washington on January 20 this year.
"This morning, Michelle (wife) and I awoke to some surprising and humbling news.
"...To be honest, I do not feel that I deserve to be in the company of so many of the transformative figures who've been honoured by this prize -- men and women who've inspired me and inspired the entire world through their courageous pursuit of peace," Obama wrote in the email to Singh.
The US President said that he was grateful to Singh that he "stood with me thus far, and I am honoured to continue our vital work in the years to come".
Obama also explained to Singh why he said in his remarks after the announcement that the award comes as a "call to action, a call for all nations and all peoples to confront the common challenges of the 21st century".
"...I also know that throughout history the Nobel Peace Prize has not just been used to honor specific achievement; it's also been used as a means to give momentum to a set of causes," Obama wrote.