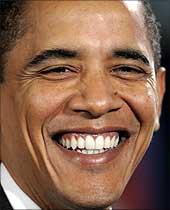 United Nations chief Ban Ki Moon on Friday came out strongly in support of the Nobel Peace Prize for United States President Barack Obama and termed the Norwegian Committee's decision 'a very wise' one.
"The Nobel Peace Committee has made their decision, and this should be respected, and I wholeheartedly support it," he told journalists.
"As I said, the Nobel committee has made a very wise decision," he said, responding to criticism that the award for Obama has come too early.
Some critics have said that while good vibes of diplomacy have been put into the international community, Obama's policies were yet to achieve any tangible results.
Ban especially noted Obama's engagement with the UN, an institution that the previous George W Bush administration had sidelined during its eight years in power.
"From day one, since his election, and during his transition as President-elect, and after he was formally inaugurated as President, he has shown extremely strong support for the United Nations, and his firm commitment to working together with the UN," Ban said.
"That has given me a great source of encouragement," he added.
Former Polish President Lech Waleza, himself a Nobel Peace Prize winner, was among the major leaders who said the 'honour has come too fast'. While the decision has been applauded by key peace figures like Nelson Mandela, Kofi Annan, political players from Afghanistan, Iran and Palestine have been more sceptical.
The 1998 Nobel Peace Prize winner, Marrti Ahtisaari, gave a cautious reaction, saying, "We do not yet have a peace in the Middle East. This time it was very clear that they wanted to encourage Obama to move on these issues".
Hamas official Sami Abu Zuhri reacted by saying, "Obama has a long way to go still and lots of work to do before he can deserve a reward. Obama only made promises and did not contribute any substance to world peace".
Meanwhile, Taliban spokesman Zabihullah Mujahid said, "He has done nothing for peace in Afghanistan. We condemn the award of the Nobel Peace Prize for Obama."
Defending the Nobel Committee's decision, Ban pointed out Obama's participation in the recent Climate Change Summit as well as the General Assembly debate, contending that the US President had already made strides in multilateralism.
"President Obama embodies the new spirit of dialogue and engagement on the world's biggest problems: climate change, nuclear disarmament and a wide range of peace and security challenges," Ban said.
"His commitment to work through the UN gives the world's people fresh hope and fresh prospects," he added.