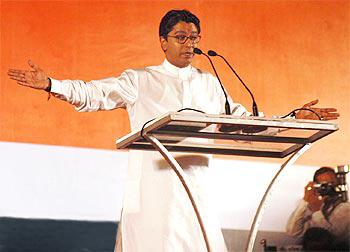 Have you seen the former finance minister and the current Home Minister P Chidambaram? He always wears traditional south Indian dress, including the 'mundu'. But when he speaks, it is only English"  -- this is not Jayaram Jayalalitha taking on her rival in the Dravidian politics.
"All along his life, Rabindranath Tagore wrote only in Bengali and he got the Nobel Prize for his literature"  -- this is not West Bengal Chief Minister Buddhadeb Bhattacharjee at Kolkata's cultural hub Nandan.
"Mumbai is Maharashtra. But mind you, Maharashtra is not Mumbai. One taxi was smashed in Maharashtra, and people reacted as if the whole country is was broken" --  this is also not the original monarch of the "Maratha Manoos", Bal Thackeray, who started his political career by attacking South Indians, giving rise to slogans like "lungi uthao, pungi bajao" in the mid-1960s.
"Except one Hindi film, Satyajit Ray made all his films in Bengali. See, he got an Oscar award for his lifetime achievements" -- this is not any class in Pune's Film and Television Institute of India.
In poll-bound Nashik on Tuesday night, this is Raj Thackeray at his den. This is the first Assembly election the young Maratha Turk's party is fighting after he split with his uncle's Shiv Sena and formed his own group, the Maharashtra Navnirman Sena (MNS), popularly known as "Maansa".
Even as he aims to be a force to reckon with in Maharashtra politics, Raj Thackeray will not essentially spell out his big vision on social or economic policies unlike many other leaders. When he arrives on stage wearing a full sleeve white shirt buttoned at the wrist, black trousers with shining black leather belt and shoes, he looks more like a corporate employee in a Churchgate-bound train rather than someone on the political track.
But he has his fans. He is an hour and forty-five minutes late but the Yashwant Maharaj patangan (chowk) in old Nashik is not complaining. Instead, it's packed with crowd and a large part of it consists of women. Even kids have come to get a glimpse of the leader, described by his colleagues as the Kohinoor diamond!
In some ways, this young Thackeray finds resemblance with a man in Maharashtra's neighbouring state of Andhra Pradesh  -- Chiranjeevi. Like the Telugu superstar, Thackeray is a terrific crowd-puller, good orator and in Assembly poll for the first time. This apart, both of them share a common election symbol — railway engine. But Chiranjeevi couldn't translate the mass gatherings in his rallies into ballots. Will Raj Thackeray be different?
Seven hours after Sonia Gandhi's rally in Nashik, Thackeray too hit the city on Tuesday. In naked eye, his was a better gathering than Gandhi's rally. But that should actually be a reason to smile for the Congress: Thackeray's rise means the fall of the Shiv Sena, the fracture in the BJP-Sena's Opposition vote bank.
Raj knows he is the key player for his party. So, he tells his party workers "Congress leaders had given 'supaari' (bounty to kill a rival in Mumbai underworld jargon) to eliminate me. But I am not afraid. Rather they are travelling with heavy security. My advice to the Congress is: go and open a paan shop with your supaaris."
Interestingly, he didn't talk about the Shiv Sena but attacks the state's Congress Chief Minister Ashok Chavan: "In Andhra Pradesh, people committed suicide when the chief minister died. Here, people are committing suicide because of the presence of the chief minister."
Then, he will read out an "official statistics" of 2001 showing the intrusion of people of Bihar, Uttar Pradesh and Bangladesh in various districts of Maharashtra. "Gadchiroli 32,000; Nashik 151,000; Mumbai 700,000; Jalgaon 80,000; Nagpur 400,000; Thane 1.4 million", and looks back at the voters. to say: "Your language, identity and culture will be ruined if outsiders come and settle in Maharashtra".
In his forty minute-speech, it is only about Marathis and Maharashtra. But as his party wraps up the rally with the national anthem, Raj Thackeray finally joins the chorus to sing "..Punjab Sindhu Gujarat Maratha Dravid Utkal Banga…".