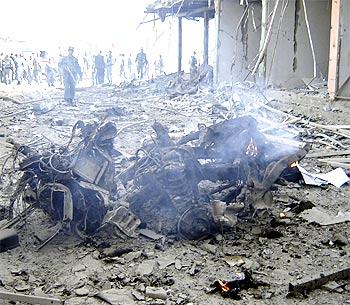 The Taliban on Thursday claimed responsibility for the suicide bomb attack outside the Indian Embassy in Kabul and claimed that the actual toll due to the blast was 17, Al Jazeera channel reported.
The channel, quoting the Taliban website, identified the suicide bomber as Khalid.
Al Jazeera added that the Afghanistan government and intelligence sources have indicated the involvement of foreign hand in the blast as "planned by a state and not a group of bandits", an apparent reference to Pakistan.
Image: A policeman keeps watch at the blast site in Kabul | Photograph: Reuters