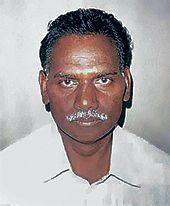 It is only after the brutal death of inspector Francis Enduwar that procedural work to clear his Last Pay Certificate has been taken up by the police department to enable the family to get his salary pending since March.

Enduwar remained without salary for six months, as he could not cut through the elaborate red tape after his transfer on promotion from Bokaro to the state special branch in March, this year.

"As soon as I joined yesterday, I cleared his Last Pay Certificate (LPC). I am looking into why it took so long," Bokaro Superintendent of Police Saket Kumar Singh said on Thursday.

Singh succeeded SP Laxman Prasad Singh after the recent massive reshuffle in the ranks of SP.

The Inspector-General of Police (Special Branch), B B Pradhan, explained that once transferred, a policeman has to handover charges of old cases and deposit weapons given to him and the delay could be due to this and other reasons.

"The LPC is cleared by different sections in the district police concerned after the transferred policeman hands over everything, including case diary and weapons, under his possession," Pradhan said in Ranchi.

The IG, however, said his salary would be cleared immediately.

Enduwar's decapitated body was found at Raisha Ghati near Ranchi on Tuesday.