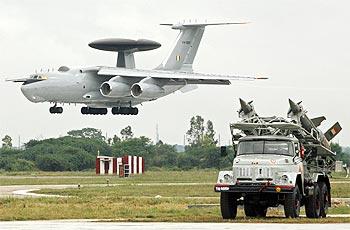 The Indian Air Force on Thursday celebrated its 77th anniversary with a breathtaking display of air power by its frontline fighter aircrafts, followed by a thrilling aerobatics performance by its Surya Kiran and Sarang teams.
Both the Sarang helicopter team and Surya Kiran Aerobatics Team (SKAT) on Thursday enthralled the audience with their display of synchronized low level maneuvering in close formation on the occasion.
The parade was led by Group Captain S.K Vidhate and comprised 30 officers and 213 air warriors.
The 28-member rifle drill team's performance with a motto Drill to Thrill was a treat to the eyes.
The air display commenced with Para Motor and powered Hang Glider performance followed by flag bearing skydivers of Akash Ganga Team dropping out of an AN-32 aircraft.
The commencement of the Air Force Day Parade was marked by a fly past of three Mi-17 helicopters in Vic formation trooping the Air Force Ensign at a height of 60 metres at the speed of 80 kmph.
A Chakra formation comprising three Mi-25/Mi-35s then came in followed by a spectrum comprising of one Dornier in the lead with two AVRO and two AN-32 aircraft in echelon position on wither side.
The spectators for the first time saw the AWACS (Airborne Early Warning and Control Systems) aircraft, which was escorted by two SU-30 MKIs.
The fighter fly past was be led by three Jaguars in Vic formation closely followed by Vic formation of three each Bison (Mig-21), Baaz (Mig-29), Vajra (Mirage 2000) aircraft and a SU-30 MKI aircraft.
One Sukhoi aircraft of the formation then carried out four turn in Vertical Charlie manoeuvre.
The IAF was officially established on October 8, 1932, as an auxiliary air force of the Indian Empire and the prefix Royal was added in 1945 in recognition of its services during the World War II.
After India achieved independence from the British in 1947, the prefix Royal was dropped and replaced by the word Indian. 
Soon: Watch this space for photographs of the celebration