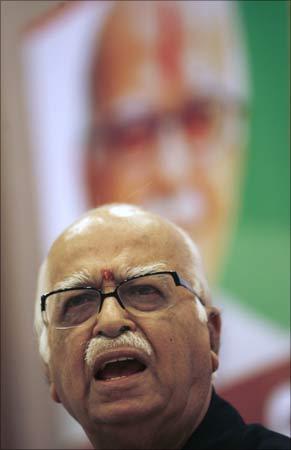 Former Bhartiya Janata President M Venkaiah Naidu has said the party will not contest the next Lok Sabha elections under the leadership of L K Advani and agreed that it would be logical for the party to get a new leadership at that juncture.
"Advani is not going to contest the next elections. We are not going to fight the next elections under his leadership. Next general elections are going to happen when... you know (2014)," Naidu told a television channel.
He was replying to a question on whether the BJP would contest the next general elections under Advani's leadership, who would be 87 years old in 2014.
He agreed it sounded logical that in such a scenario BJP would need a new leader and for this the change of guard would have to take place couple of years before the polls.
Asked who would be the next leader, Naidu said, "Political parties discuss issues and then come to conclusions according to the need of the hour and by consensus".
The Rajya Sabha MP said Advani had been chosen as the Leader of Opposition by BJP for the 15th Lok Sabha and it was for him to decide when to step down.
"Whenever he (Advani) wants to make way for others, it is his choice. Nobody has given him any deadline....," Naidu said.
Naidu justified the continuation of Advani as head of the BJP Parliamentary Party, though the latter was "reluctant to accept" and had to be "persuaded".
"When you lose an election that to for the second time, there will be certain amount of demoralisation, so we wanted him (Advani) to guide....The process of leadership change is a normal process...when he wants to choose a new leader, it will be announced by Advani," Naidu said.
On the recent controversy created by Advani's statement that he did not want expulsion of Jaswant Singh, Naidu said, "Initially, yes, he was opposed to expulsion.... He said in place of expulsion can we think of any other alternative."
However, Naidu maintained the final decision was unanimous. "Jaswant Singh's book contains many objectionable references," he said, adding that everybody in the meeting agreed action had to be taken and Advani, being a "democratic person" agreed.
Naidu said the decision to expel Jaswant Singh was a "painful decision" as he had been with the party for 25-30 years but there was no other way.
The veteran leader said Advani had not "suffered any image loss at all" in the last few months which have witnessedseveral controversies within the BJP.
On Arun Shourie's recent outburst against Advani and party president Rajnath Singh, Naidu hinted action may be taken after the forthcoming Assembly polls while he was confident Vasundhara Raje would abide by party decision.