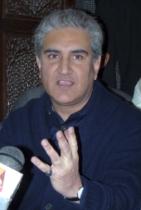 Pakistan Foreign Minister Shah Mahmood Qureshi on Wednesday said that the perpetrators of the terror attack on Mumbai are not friends of Islamabad and such terror organisations need to be checked, curtailed and shut.
"Those who carried out the Mumbai terrorist attack that killed 166 innocent people are not friends of Pakistan," Qureshi, who is on a visit to United States, said at the Council of Foreign Relations, a Washington-based think tank.
He was replying to questions on the actions taken by Pakistan to bring to book those responsible for the attacks. "In the interest of stability and peace in the region, it is in the interest of Pakistan's enlightened self-interest to normalise and live in peace with India. The government of Pakistan believes that these organisations have to be checked, curtailed and shut," he said.
Such a statement from the Pakistan foreign minister has come at a time when the Pakistani army has reportedly been trying to push as many as 60 Taliban militants inside Jammu and Kashmir.
In response to another question, Qureshi said the civilian nuclear agreementl with India is discriminatory. "And when you sign agreements that are discriminatory in nature, it does not help," Qureshi said in reference to the Indo-United States civilian nuclear deal.
India has insisted that Pakistan needs to show commitment and progress in taking action against those responsible for the Mumbai terrorist attack.
Qureshi had met External Affairs Minister S M Krishna in New York in September on the sidelines of the United Nations General Assembly.
Though the meeting was said to be fruitful by both sides, no dates were set for the next round of talks between the two south Asian neighbours.