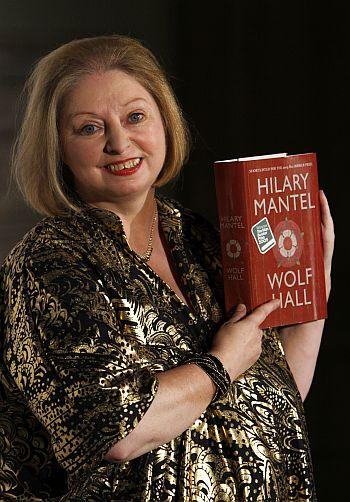 In a short-list bereft of Indian writers, this year's Man Booker prize has gone to British novelist Hilary Mantel for her gripping 16th century tale titled Wolf Hall.
Mantel, 57, received 50,000 pounds as prize money on Tuesday night in what is considered one of the English-speaking world's most prestigious literary prizes.
Indian writers such as Salman Rushdie, Anita Desai, Aravind Adiga and Arundhati Roy have previously won the prize but this year's shortlist did not feature any Indian.
Other writers who made the short list this year were A S Byatt, J M Coetzee, Adam Foulds, Simon Mawer and Sarah Waters.
Wolf Hall is set in the 1520s and tells the story of Thomas Cromwell's rise to prominence in the Tudor court. Accepting the award at The Guildhall, Mantel said that if winning the Booker Prize was like being in a train crash "at this moment I am happily flying through the air."
She told the audience that it had taken her about 20 years to decide whether to write this particular book. She said, "I couldn't begin until I felt secure enough to say to my publisher - just what a publisher always wants to hear - 'this will take me several years you know'. But they took it on the chin."
Mantel added, "When I began the book I knew I had to do something very difficult, I had to interest the historians, I had to amuse the jaded palate of the critical establishment and most of all I had to capture the imagination of the general reader."
Chairman of judges James Naughtie said, "Our decision was based on the sheer bigness of the book. The boldness of its narrative, its scene setting. The extraordinary way that Hilary Mantel has created what one of the judges has said was a contemporary novel, a modern novel, which happens to be set in the 16th century. We thought it was an extraordinary piece of story-telling."
Mantel was the bookmaker's favourite to win the award. Ion Trewin, literary director of the Booker Prizes, said the last time a favourite walked off with the prize was Yann Martel's 'Life of Pi' in 2002.
The Man Booker Prize for Fiction, first awarded in 1969, promotes the finest in fiction by rewarding the very best book of the year.
Text: PTI 
Image: Author Hilary Mantel poses with her book Wolf Hall after winning the 2009 Man Booker Prize for Fiction in London
Photograph: Luke MacGregor / Reuters