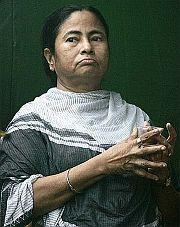 The rancour of associating with the ruling Communist Party of India-Marxist while forming the board of the Siliguri Corporation has now created a major problem for the West Bengal unit of the Congress, as Debaprasad Roy, one of the vice-presidents of the state Congress, has resigned from the post, protesting the Left help sought by his party to gain power in the municipality.
Roy on Monday met Trinamool Congress chief Mamata Banerjee and shared the dais with her as she addressed an impressive rally at the Siliguri Bagha Jatin ground to attack the Congress leaders for 'conspiring with the CPI-M' to capture the Siliguri Corporation. Ever since the Congress took Left support to form the board at Siliguri Corporation, its relation with the Trinamool Congress began to sour. Banerjee has accused the Congress high command of betraying her party.
Also, she accused the state Congress leaders of succumbing to the 'money power'. While making a dig on Monday at the Congress for its hobnobbing with the CPI-M, she even made it clear that her party would not compromise on its 'anti-CPI-M' stance.
Ever since she became the Union railway minister, Banerjee has been launching various railway projects to woo the people of her state. By inaugurating various new trains for the state in a phased manner, she is also trying to build her image of a performer. On Monday, too, Banerjee inaugurated a tri-weekly superfast train, which will run between New Jalpaiguri and Sealdah.
All along the Congress leaders, including All India Congress Committee general secretary K Keshava Rao, tried to underplay the Siliguri episode as an isolated one and claimed that the decision to seek support of the CPI-M was taken at the district committee level. But Mamata Banerjee alleged that it was decided at the highest level, and put the entire blame on the Congress high command.
Though both the TC and the Congress are not willing to severe their alliance, it has already taken a beating. Next year, 80 municipalities, including the Kolkata Corporation, will go to polls and by-election will be held for 10 assembly seats. The bitterness caused by the Siliguri episode may overshadow the relation between the Congress and the TC and as a result, seat sharing between the two parties for these elections will see another battle of nerves.
At the same time, a minor discontent is also brewing in the Left Front after it decided to support the Congress candidates during the voting for forming the new Siliguri Corporation board. Leaders of the Revolutionary Socialist Party, a constituent of the ruling Left Front, have shot off a letter to Biman Bose, the CPI-M state secretary and the chairman of the Left Front, claiming they were kept in the dark while the CPI-M unilaterally decided to support the Congress on behalf of the entire Front. The CPI-M is yet to respond to their charge.
Image: Trinamool Congress chief Mamata Bennerjee