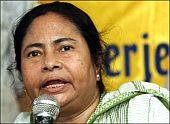 Trinamool Congress leader Mamata Banerjee on Monday warned the West Bengal government not to use the stringent anti-terror law Unlawful Activities (Prevention) Act against intellectuals by alleging links with Maoists, but the ruling Left Front stuck to its guns.
Banerjee's warning came two days after the state government declared that those demanding release of Maoist-backed tribal leader Chhatradhar Mahato were punishable under the Act.
With eminent writer Mahasweta Devi planning to take out a rally to demand Mahato's release, Banerjee asked Weest Bengal Chief Minister Buddhadeb Bhattacharjee not to implicate intellectuals like the Magsaysay award winner.
Reacting to the TC leader's warning, state Chief Secretary Asok Mohan Chakraborty said, "I have heard what the railway minister said. We don't have anything against intellectuals. It's a question of the Act."
Chakraborty said though Maoists or the People's Committee against Police Atrocities were not banned in the state, persons having connection with Maoists or a banned outfit could be arrested.
Earlier in the day, Banerjee had said, "We are keeping a watch on the situation... Mahasweta Devi is a respected person and intellectuals are assets of the country. They are for democratic movement. If intellectuals are touched, we will give a fitting reply."
"Anybody having connections with Maoists or any banned outfit are punishable under the Act," Chakraborty reiterated.
PCPA is not a banned organisation, Banerjee said, adding that there was nothing wrong in tribals seeking intellectuals' help. She also raised questions about the arrest of the PCPA leader by policemen posing as journalists. "I smell something fishy. I don't believe this government," she said.
The TC chief alleged that Director General of Police Bhupinder Singh, who interrogated Mahato, "acted at the behest of Communist Party of India-Marxist".
Banerjee claimed, "The CPI-M had struck a deal with Mahato before the last Lok Sabha elections and had meetings with him at the state secretariat a number of times."
Pointing out CPI-M politburo member Sitaram Yechuri's reported meeting with Maoists in Nepal, Banerjee asked, "Are Maoists good in Nepal and bad in Bengal?"
She accused the CPI-M of having links with the Maoists.
Reacting to Banerjee's warning, Water Investigations Minister Nandagopal Bhattacharya said, "We will fight threats by Mamata or anyone else. She had earlier also made threats."
However, the CPI leader opposed the UAPA and questioned the manner in which Mahato was arrested.
"UAPA can be applied against us also. We opposed it when it was introduced by the Centre... If press accreditation cards were forged by the police, then it should be probed and action taken," he said.
Image: Union Railway Minister Mamata Banerjee