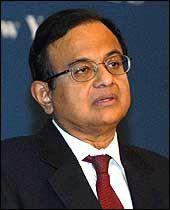 Union Home Minister P Chidambaram on Friday dismissed as "wrong reports" about firing on Indian fishermen by the Sri Lankan Navy in the last 10 months, but said cases of some excesses by them have been taken up.
"There have been excesses by the Sri Lankan Navy, like arrests and keeping the fishermen in their custody, who crossed the maritime border. However, there were no incidents or reports of firing for the last 10 months. The reports are wrong," said Chidambaram.
He said India had been asking the Sri Lankan government to hand over the fishermen who had crossed the coastal border. "We will again take up the issue with that government."
Replying to a query, he said the Centre had already written to the states to create police establishment boards to manage transfer and postings, as discussed in the recent meeting of director generals of police from various states in Delhi.
The Centre had also asked the states to set up a police commission to redress the grievances of the force and evolve state security policy to regulate the services, he said.
Creation of board and commission was not a directive by the Centre, he said, adding that all the states were answerable to the Supreme Court, which has passed orders in this regard.
Union territories had already implemented the proposals.
Image: Home Minister P Chidambaram