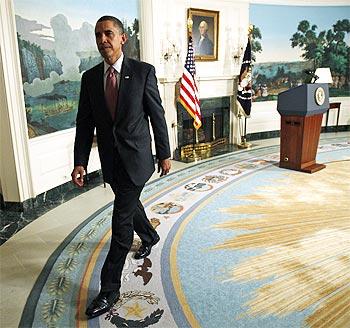 As the world celebrates the International Day of non-violence, United States President Barack Obama on Friday said America has its 'roots in the India of Mahatma Gandhi'.
"His teachings and ideals, shared with Martin Luther King Jr on his 1959 pilgrimage to India, transformed American society through our civil rights movement," Obama said on the occasion of Gandhi's birth anniversary. Americans owe enormous gratitude to Gandhi, he added.
"The America of today has its roots in the India of Mahatma Gandhi and the non-violent social action movement for Indian independence which he led," Obama said in a statement.
"We join the people of India in celebrating this great soul who lived a life dedicated to the cause of advancing justice, showing tolerance to all, and creating change through non-violent resistance," Obama said.
As the world remembers the Mahatma on his birthday, Obama said, "We must renew our commitment to live by his ideals and to celebrate the dignity of all human beings".
"On behalf of the American people, I want to express appreciation for the life and lessons of Mahatma Gandhi on the anniversary of his birth. This is an important moment to reflect on his message of non-violence, which continues to inspire people and political movements across the globe," he said.
This is not the first time that Obama has mentioned Gandhi's relevance in today's world. During his presidential campaign in February, 2008, Obama wrote an exclusive article for India Abroad, the oldest and largest circulated Indian-American newsweekly, which is owned by rediff.com.
In the article, Obama talked about why he had a portrait of Gandhi in his Senate office.
"In my life, I have always looked to Mahatma Gandhi as an inspiration, because he embodies the kind of transformational change that can be made when ordinary people come together to do extraordinary things. That is why his portrait hangs in my Senate office: to remind me that real results will not just come from Washington -- they will come from the people. And that is why I am proud to have the longstanding support of so many Indian Americans in all aspects of my campaign, as well as the endorsements of leading elected Indian-American law-makers".
In August, Obama had said that if given a chance, he would love to have dinner with Mahatma Gandhi. Obama expressed his desire in response to a question from a student during his discussion with 9th graders at the Wakefield High School in Arlington, Virginia, where he gave a national speech welcoming students back to school.
Obama called for students to take responsibility and to learn from their failures so that they succeeded in the end.
"If you could have dinner with anyone, dead or alive, who would it be," Obama was asked by one of the students.
"Dinner with anyone dead or alive? Well, you know, dead or alive, that's a pretty big list," Obama responded amidst laughter.
 The next moment he was serious. "You know, I think that it might be Gandhi, who is a real hero of mine," Obama said.
"Now, it would probably be a really small meal because he didn't eat a lot," he said amidst laughter. But Mahatma Gandhi is someone who has inspired people across the world for the last several generations, he said.
Image: US President Barack Obama at the Diplomatic Reception Room in the White House | Photograph: Jim Young/Reuters
Additional inputs from PTI