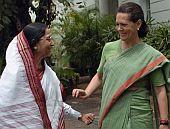 President Pratibha Patil's son, Rajinder Shekhawat, who is the official Congress candidate from Amravati, is learnt to have put in a unlikely request for Congress President Sonia Gandhi to campaign in his constituency.
Sources in the All India Congress Committee state that it is unlikely that the Congress chief will go to Rajinder's constituency even though she would, during the course of the campaign, go to nearby constituencies.

In fact, no senior leader from Maharashtra is expected to campaign in Amravati for the President's son, who had three months ago put up posters and banners in his constituency stating "ticket pakki, jeet pakki".

President Patil herself has made over 15 round trips to Amravati. Whether protocol allows her to visit her hometown during election time, particularly if her son is himself the candidate, is a grey area that has not been codified in the books. Also, there is no clear word on whether the highest constitutional authority in the country can ask for a party ticket for her son to contest the elections.

The candidature of the President's son has become a Catch 22 situation for the Congress, which was most reluctant to give him the ticket. It has come as a huge embarrassment for the party with sources disclosing that the AICC can ill afford to see him losing but at the same time no one wants to be seen as going all out in his support.

It is learnt that the party put all its heavy weight leaders on the job of trying to persuade Sunil Deshmukh, the sitting MLA and state minister, not to contest from Amravati.

He was offered an adjustment later, which included making him an MLC and then a minister but with the last date for withdrawal having passed, Deshmukh has refused to oblige the party.

Amongst those who spoke to him were AICC general secretaries Janardhan Dwivedi, Digvijay Singh, Chief Minister Ashok Chavan. AICC secretary Avinash Pandey was sent to Amravati by Digvijay to meet Deshmukh and persuade him in person.

Deshmukh is known to be close to Union Minister Vilasrao Deshmukh and Janardhan Dwivedi.

On Tuesday, Sunil Deshmukh resigned from the Congress and asserted that he will not withdraw from the contest. Since Deshmukh is a Maratha as opposed to Shekhawat who is a Rajput, reports coming in from Maharashtra suggest that the Maratha vote in nearby constituencies may also be affected in sympathy with Sunil Deshmukh.

The common sentiment amongst the Congress leaders in the state is that since New Delhi took the decision to field Shekhawat, it should handle it and ensure his victory. But sources in Delhi say the party would like to play safe on the issue.

Without coming on too strong in support of Shekhawat, the party would be happy with his victory as it would silence the critics and put the lid on an embarrassing situation while a defeat would once again open the party leadership to criticism for not standing up against President Patil, who is believed to have lobbied heavily for her son's candidature.