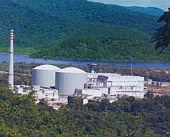 Did negligence cause 55 workers to fall ill at the Kaiga nuclear power plant after drinking contaminated water? For now, the Karnataka police has not ruled out the possibility though it feels the need to probe the incident further.
A senior police official told rediff.com that the plant was shut down for maintenance between November 11 and 20 during which the water may have been accidentally contaminated.

Under normal circumstances, the water is cleaned up before the plant reopens after maintenance. The angle pertaining to negligence on the part of some workers just cannot be ruled out at this stage, the police official also said.

No CCTVs
Another issue of concern at the plant is that there are no close circuit televisions at all points in the plant. Nabbing the real culprit may be difficult since there was no CCTV in front of the water cooler where the alleged sabotage took place.

A big question mark is now being raised regarding the safety at the plant considering that it figures -- based on reports of the Intelligence Bureau officials -- among the top terror targets in the country.
However, officials at the plant told rediff.com that this would not be a major cause for worry since the nearby areas at the plant have CCTVs and they could track the movement of the people who may have tried gaining access to the plant.

There is footage of at least 10 persons coming close to the water cooler that day and the questioning these persons will narrow us down to the real culprit, the officials added.


The Kaiga officials, however, dispute the police version of the story and say that some disgruntled person within the plant has undertaken this act. "Our internal probe shows that it is not an act of negligence but a deliberate attempt to sabotage and create a ruckus," said an official.
Dr S K Jain, CMD, Nuclear Power Corporation, has stated that they are seeking the help of intelligence agencies to find the real culprit.
The local police officials and also the Intelligence Bureau have been called in to examine the incident. The IB has been called in after an alert was sounded off stating that the person who undertook this job could have done so at the behest of an outsider.