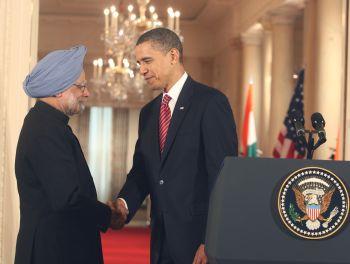 South Asia experts have called the recent Obama-Singh meet a success, going by the positive signals given by both sides in all major areas of cooperation, both bilateral and multilateral.
Ashley J Tellis, former senior adviser to the George W Bush Administration and currently a senior associate at the Carnegie Endowment for International Peace, said, "Although this visit was preceded by many anxieties, some entirely justified, I think Prime Minister Singh has reason to conclude that his state visit was successful."
"Success in this instance was not exemplified by dramatic changes in established position, but by Singh's and Obama's ability to have an honest and transparent conversation on a range of difficult issues," he said.
Tellis acknowledged that "the personal chemistry between the two leaders was excellent -- the President repeatedly referred to Prime Minister Singh public as "wise". I read that as a testament of his deep respect for Singh".
He further said, "There is also a better understanding of what Pakistan must do with respect to combating terrorism and bring the Laskhar-e-Tayiba terrorists involved in the Mumbai attacks to justice."
"I do not think we will see a repeat of the problems in the US-China Joint Statement again," he added.
Though he acknowledged that "the US and India will continue to disagree on many things in the areas of climate change, nonproliferation and trade", he said, "There is much that both countries can cooperate on -- and will cooperate on. The numerous initiatives announced during this visit illustrate that fact."
"More importantly," he added, "I think this visit provided both sides with an opportunity to take stock of where they are today and to put in place building blocks for a deeper partnership."
"There are still many constraints on both sides -- the US dependence on Pakistan in regard to Afghanistan, the Obama administration's vision of cooperative security, and the US desire not to acknowledge China as a geopolitical rival. These are all constraints on the US side," he said.
"But they are matched by constraints in India as well," he said. "New Delhi is still relatively inward looking; India is located in a dangerous neighborhood; and the US-Indian economic relationship, though improving, is still not adequate or deep enough."
However, Tellis asserted that "despite these constraints, the bilateral partnership can flourish, if both sides remain sensitive to the critical interests of the other."
Karl F Inderfurth, former assistant secretary of State for South Asian Affairs in the Clinton Administration and South Asia policy adviser with the Obama campaign, pointed out, "Words are important in diplomacy and the words President Obama spoke sent many signals how he views the relationship with India."
Inderfurth, currently professor of international relations at George Washington University, said, "Two things he said particularly struck me. First that 'India is today a rising and global power'. That is a vote of US confidence in the implications of India's new global status and the role it will be playing in the future.
"Second, as the US and India work to build that future, Obama said, 'India is indispensable'. In other words, for the United States, India is no longer 'a partner of choice' in addressing global issues, but a 'partner of necessity'. So, in sum, both of these statements tell me that, like his predecessors Presidents Clinton and Bush, President Obama has 'got it' -- India will be one of our most strategic partners for the 21st century," Inderfurth said.
He said, "Words delivered by Prime Minister Singh were also of great importance during the visit, and none, in my view, were more important than what he had to say about how critical it is for the United States and the international community 'to sustain its engagement in Afghanistan, to help its emergence as a modern state.'"
"This message from the prime minister was especially timely, given that Obama on Tuesday will be announcing his decision on Afghanistan and the role the US intends to play. I am hopeful that he will heed Singh's wise counsel."
He added, "Prime Minister Singh also used words, very diplomatically, to again call attention to the need 'to reform the United Nations and its Security Council'. That should include, in my view, adding India as a permanent member of the UN Security Council."
However, Inderfurth felt that while the Obama administration has been a strong supporter of India as a key player on international economic issues in the G-20 context, it continues to hold back from endorsing India's candidacy for the Security Council.
"This 'rising and responsible global power', to use Obama's own words, deserves to be at that table too," he said.
"Of course, I was happy to hear that Obama 'happily accepted' the prime minister's invitation to visit India in 2010. He will therefore do something that neither Bush nor Clinton did -- namely visit India during his first term in office," Inderfurth added.
"That was just another positive signal sent during what I believe was a very positive and successful visit."
Teresita Schaffer, head of the South Asia programme at the Center for Strategic and International Studies and an erstwhile diplomat of more than three decades working on South Asia, said, "Manmohan Singh and Obama really covered the global scene, which was what I think they needed to do."
 "And, of course, the foreign policy issue that was uppermost in Singh's mind was Afghanistan. He brought it up in all his speeches," she pointed out.
Schaffer also believes the controversy over the US-China Joint Statement in Beijing which seemingly mooted a monitoring role to China on India-Pakistan relations may have been put to rest because "the formal statements recognised India's leadership role in Asia in a very constructive way".
On the major issue of climate change, she said, "Recent developments have scaled back the ambitions for Copenhagen, and the two leaders seem to have focused chiefly on possibilities for bilateral cooperation."
"All in all," Schaffer said, "A very useful visit, which should set the tone for a more strategic global engagement in the future."
Lisa Curtis, who heads the South Asia programme at the conservative think-tank Heritage Foundation said, "President Obama was right to acknowledge India's central role in advancing freedom, peace and prosperity in Asia."
 "But the Obama administration should consult with India on a more consistent basis on the world's major challenges. For its part, India should place more emphasis on promoting democratic principles outside its borders, building on this internal strength as a way to increase its soft power projection."
Curtis, a former Central Intelligence Agency South Asia analyst, and longtime Senate staffer to then chairman of the foreign relations committee Senator Richard Lugar, also said, "President Obama hopefully took the opportunity in his private meeting with Singh to provide reassurances that the US is attuned to India strategic concerns vis-à-vis China, particularly their ongoing border disputes and Chinese efforts to extend its influence into South Asia."
She said it was also an important diplomatic move that President Obama expressed gratitude to India "for its assistance to the Afghan people… as it tacitly acknowledges that he does not view Afghanistan through a Pakistani lens".
Curtis also referred to the two leaders taking note "of their growing counter-terrorism cooperation", particularly in the wake of 26/11, and acknowledged it was "unprecedented and broke down many bureaucratic walls between the two countries' intelligence and law enforcement agencies".
"Any initiative by Obama to try and reduce tensions between Islamabad and New Delhi should include convincing Pakistan to prosecute the Mumbai attackers, arrest LeT leader Hafiz Mohammed Sayeed, and shut down the operation of this terrorist group," she said.
Curtis also said it was necessary that Obama make clear, which he did, that "the US is not pushing for direct mediation between India and Pakistan, but would instead help both countries feel more secure," particularly after he had gotten off to "a rough start with the Indians because of a comment last year hinting that he would consider appointing a Kashmir envoy".
"Many Indians viewed the comment as reflective of a Pakistani view of the region," she said.
Raja Mohan, currently Kissinger Chair in foreign policy and international relations at the John W Kluge Center, US Library of Congress, said, "The main purpose was to get reassurance that this administration is as committed to the relationship as its predecessor. And, that objective seems to have been achieved and whatever doubts India had in terms of where this administration wants to take its relationship with India, all the signals have been positive."
"The president seems to have convinced the Indian side that he's very much supportive of the relationship and that he will take it to the next level," he said.
Mohan said the reassurances were on a commitment to complete the nuclear deal and also on China and Pakistan -- that the "US policy is not hostile to India."
"On the nuclear deal, he (Obama) clearly said that he's committed to it and also said very clearly that it is good for US jobs. So, I think, he made the point quite explicitly."
Mohan added, "Second, in terms of the India and China, any doubts that India will be somewhat downgraded, he once again cleared them by saying that India had a role in Asia."
 "And on Pakistan, this whole idea that US and India can work together to defeat terrorism in South Asia is a good formulation and a message to Pakistan that the perpetrators of those terrorist attacks have to be brought to justice, India should be quite happy with it."
Mohan also agreed that the personal chemistry was palpable.
"This was their first in-depth discussion, and unlike in the past, there seems to be such a much larger engagement between the two societies -- from the business communities to the Indian American communities -- which is driving it and stabilizing the relationship."
Image: Prime Minister Manmohan Singh with US President Barack Obama at the White House during his recent visit to the US | Photograph: SnapsIndia