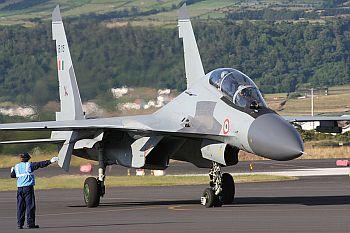 A Sukhoi fighter jet of the Indian Air Force crashed at Jetha Ki Dhani near Pokhran firing ranges in Rajasthan on Monday.

The two pilots bailed out to safety.
This is the second Sukhoi crash this year -- the first was reported on April 30 in which the co-pilot was killed.
"A Sukhoi fighter jet crashed southwest of Pokhran in Jaisailmer district today," IAF spokesperson Wing Commander T K Singha said in New Delhi.
IAF sources said the Sukhoi had taken off from Jodhpur at 1645 hours for a routine training sortie and it crashed around 1730 hours.
The aircraft was being piloted by Wing Commander Shrivastav and assisted by a navigator in the co-pilot's seat. Both bailed out safely just before the crash, they added.
The latest Sukhoi crash is the 13th IAF aircraft crash this year and the eighth fighter jet mishap. The IAF has ordered a court of inquiry.
The IAF has also lost a Kiran MkII trainer aircraft of the Surya Kiran Aerobatics Team, three MiG-27s, three MiG-21s, a HPT-32 trainer aircraft, an AN-32 transport aircraft, a Mi-8 and a Mi-17 helicopters this year.
In the first Sukhoi crash, IAF lost one of the two pilots, Wg Cdr P S Narah, while the other pilot Wg Cdr S V Munje survived.