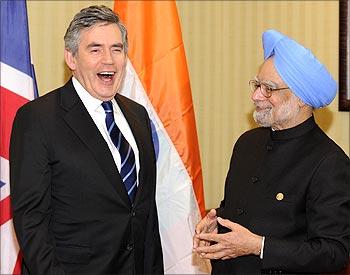 The United kingdom and France on Saturday joined India in making it clear that there should be no 'double standards' in the fight against terrorism, a view that can be seen in the context of Pakistan.
The three countries also highlighted the need to bring to justice the perpetrators of the Mumbai terror attacks and 'vigorous efforts' to deal with terrorism emanating from Afghanistan and Pakistan, as Prime Minister Manmohan Singh held separate meetings with French President Nicolas Sarkozy and British Premier Gordon Brown in Port of Spain.
During the meetings on the sidelines of the Commonwealth Heads of Government Meeting, the situation in Afghanistan-Pakistan region was also discussed. "There was convergence of views that there should be no double standards in fighting terrorism," External Affairs Ministry spokesman Vishnu Prakash told reporters while briefing them on Dr Singh's meetings.
He did not elaborate but the view is an endorsement of India's stand that Pakistan should not be selective while fighting terrorism. India says that while Pakistan has gone all out in its fight against Taliban, it is turning a blind eye to groups like Lashkar-e Tayiba and Jaish-e-Mohammad, which continue to target India.
Dr Singh has already warned that Taliban and the ideology it propagates have to be defeated, failing which the consequences would be 'catastrophic' for the world.
Image: Britain's Prime Minister Gordon Brown with Prime Minister Manmohan Singh in Port of Spain | Photograph: Toby Melville/Reuters