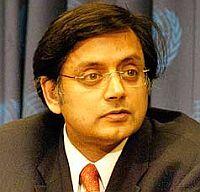 India on Saturday said it wishes to see that 'exemplary punishment' is given to the perpetrators of the 26/11 Mumbai terror attacks, who have been charge-sheeted in a Pakistani anti-terror court.
"We are glad that there has been a charge-sheet. We want to see a vigorous prosecution mounted. We want them to collect the necessary evidences in Pakistan. And we want to see a conviction and exemplary punishment that is essential," Minister of State for External Affairs Shashi Tharoor said in New Delhi.
A Pakistani anti-terror court on November 25 formally charged seven suspects, including Laskar-e-Tayiba commander Zakiur Rehman Lakhvi, with planning and helping execute the Mumbai attacks.
"We have repeatedly asked for the infrastructure of terrorism from which so many attacks has been launched against us over the years, not just the 26/11 attacks, to be dismantled and we would like to see progress in all of these areas," Tharoor said.
Demanding that there should be more action against 'the maligning forces,' he said, "We want peace in the sub-continent and at the same time we want to see some serious action from the government and authorities of Pakistan that convey firmly to India and Indian people that they are on the same side as us when it comes to dealing with these maligning forces."