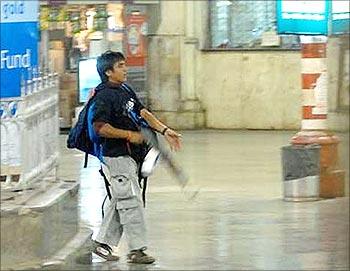 M I Khan speaks to a survivor of the 26/11 terror strike at the Chhatrapati Shivaji Terminus who regrets his inability to save six family members.
"Ajmal Kasab ko to goli mar dena chahiye (Ajmal Kasab should be killed)," says Israel Ansari who lost six members of his family in the Mumbai terror strikes.

"Sarkar us par itna paisa kyun kharch kar rahin hain? Us se zinda rahne ka koi haq nahin hain! (Why is the government spending so much money on Kasab? He has no right to live)," says Ansari angrily.

He told rediff.com over the telephone on Thursday that Kasab "deserves death as soon as possible."

Ansari, a resident of Thav village, Nawada district, Bihar, said six members of his family -- his brother Illyas, two nephews, brother-in-law, sister and her son-in-law -- were killed in the attack at the Chhatrapati Shivaji Terminus.

"There is no need to delay Kasab's execution, he should be shot dead publicly in Mumbai," Ansari, who worked as a taxi driver in Mumbai till 26/11, said.

Ansari said he and his family, including his old parents, preserve every bit of information related to Kasab and the Mumbai attacks. None of them who left Mumbai after the carnage plans to return to the city.

On that fateful day, Ansari drove his family to CST in his taxi; he left them on the railway platform and had gone to park his vehicle when Kasab and his accomplice Abu Ismail struck.
"I don't know how I managed to escape," Ansari recalls, "but six members of my family were killed."
Four members of his family will get railway jobs as promised. "The process of getting jobs in the railways is on now," he confirms.

The railways and the Maharashtra government provided compensation to his family for the six lives lost. Ansari has a grievance against the Bihar government for paying Rs 100,000 to the next of kin of only three of his six family members killed in the attacks.
"The Bihar government promised to pay Rs 150,000 to the next of kin, but later paid a lesser amount and that too only to only three of them," he complains.
Image: Ajmal Kasab, the lone terrorist captured in the 26/11 terror strikes, at Mumbai's Chhatrapati Shivaji Terminus. Photograph: Kind Courtesy Sebastian D'Souza/Mumbai Mirror