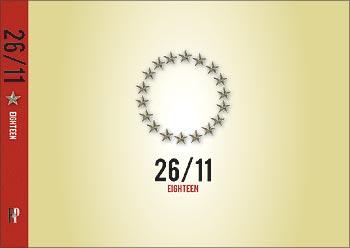 A group of journalism students have written a book on the martyrs of 26/11 attacks, titled 26/11, Eighteen, as a tribute to the supreme sacrifice made by the 18 officers of different security agencies during the 60-hour carnage in Mumbai last year.
The book, 72 pages in all, profiles the career and lives of each of the 18 men in uniform, traces the circumstances of their death, and also reveals their unfinished dreams.
The book will be released on Thursday by Home Minister P Chidambaram in the presence of the families of the uniformed men who had sacrificed their lives on 26/11.
Proceeds from the book will be donated to the police welfare fund towards the education of the martyrs' children.
The students who have put this book together, represent Journalism Mentor, a unique mentorship based programme for students keen on studying serious Journalism. Journalism Mentor (www.journalismmentor.in)  is part of a non-profit JM Foundation for Excellence in Journalism. The one-year programme is the brainchild of veteran journalist Shishir Joshi and Dr Aloke Thakore.
The book has pictures, not of bloodshed, but of heroism and rescue. It has sketches instead of the profile shots of the martyrs. It also has some exclusive pictures of the belt Tukaram Omble, the cop who nabbed terrorist Ajmal Kasab alive, wore that night.
Of the 18 men, 15 were from the Mumbai police while two others belonged to the elite National Security Guard. The book also includes three of Mumbai's topmost officers - Anti-Terrorist Squad chief Hemant Karkare, Additional Commissioner of Police Ashok Kamte and Encounter Specialist Vijay Salaskar.
"The exercise was a great learning experience for our reporting classes. We learnt how to research, to face sensitive situations and the implications of errors in information and how to avoid them; it was an eye-opener," a student, who worked on the project, said.
The book is priced at Rs 500, has been published by Font and Pixel Media Pvt Ltd, and will be available at all major bookstores in India. It is being distributed with support from Landmark and Crossword.  The book was conceptualised by the course founders, Shishir Joshi and Aloke Thakore, who shared the idea with Mumbai's Police Commissioner, D Sivanandan, who admitted that there was no such compiled tribute for the men in uniform.

Image: The cover of the book 26/11, Eighteen