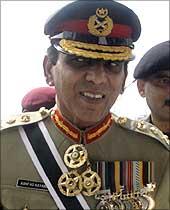 Pakistan will emerge triumphant in the war against extremism and peace will be restored in the country at any cost, Pakistani army chief General Ashfaq Parvez Kayani said on Wednesday.
Kayani made a daylong visit to this northwestern city, which has been the target of a wave of devastating suicide attacks and bombings, to boost the morale of security forces combating militants and to interact with victims of terrorist assaults.
The country will triumph in the war against militancy and peace will be restored in Peshawar and the rest of Pakistan at any cost, he said while addressing a ceremony held at the Police Lines to pay tribute to the policemen killed in the campaign against terrorism.
The protection and solidarity of Pakistan are the main objectives of security forces and any threat to the country's sovereignty and integrity will not be tolerated, Kayani said.
The army has the capability and capacity to fight terrorists and sacrifices rendered by the force reflects the level of its morale, he added.
Extraordinary security measures were put in place across Peshawar for the army chief's visit and some parts of the city were completely sealed. He went to the Lady Reading
Hospital to meet victims of recent terrorist attacks.
Kayani also laid a wreath at a monument at the Police Lines that commemorates policemen killed fighting militants.
"Pakistan was founded in the name of Islam by our forefathers and each one of us should work to strengthen the country and should make a commitment to achieving the goal of turning the country into a true Islamic state," Kayani said.
Referring to the fallout on Peshawar and other parts of the northwest of the operation being conducted against the Taliban in South Waziristan, Kayani praised the courage and patience of Peshawarites.
"The whole world has lauded the courage and sacrifices of the people of Peshawar," he said.
Terrorist attacks and bombings were expected across the country as a reaction to the successful operation against militants in South Waziristan Agency, he said. Peshawar was hit the hardest as the maximum number of bomb blasts and terrorist activities were recorded in the city, he added.
Over the past few weeks, suicide bombers have targeted security check posts, police stations, the provincial headquarters of the Inter-Services Intelligence agency and commercial areas in Peshawar, killing hundreds.
Kayani said the Pakistan Army would continue to cooperate with the local police, including training personnel for anti-terror operations. He said he would present a blank cheque to the North Western Frontier Province police chief to procure weapons and ammunition.
He also announced a donation of Rs 20 million for a fund to support the kin of policemen who died fighting militants.
NWFP police chief Malik Neveed Khan said his force had lost 192 personnel in the past two years. The force had seized 60,000 kg of explosives, 32 suicide jackets and 708 mortar shells during recent operations.
Image: Pakistani army chief General Ashfaq Pervez Kayani