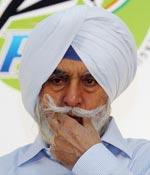 Former Punjab police chief KPS Gill said on Monday that the Mumbai police should have led the counter-offensive during the 26/11 terror attacks.

"The Mumbai police knew that the financial capital was on terrorists' target list. Still, the city police could not prepare itself for such attacks. During the terror attacks on November 26, I felt that instead of the National Security Guard, the city police should have led the assault against terrorists," Gill said.

Gill was speaking to media-persons on the sidelines of a seminar on 'Preparedness to fight terrorism' organised by the Mumbai police.The NSG had to take up the charge to neutralise the terrorists after the iconic hotels Taj Mahal, Trident and other places in south Mumbai were attacked on November 26, 2008. Gill said the first responders should have been the local police, who should have been equipped with modern weapons, trained and motivated to counter terrorism. "See how we had fought the terrorists. Punjab has showed the way to others on to how to eliminate terrorism," he said.
Gill, who retired in 1995, said before blaming Pakistan for rise in terror activities, India should set its own house in order. "Today, there is a political consensus on corruption rather than fighting terrorism. Our political leaders have agreed that it is all right to loot the country to any extent," Gill said at the seminar. Seconding his opinion, security analyst Ajay Sahni said, "It is not just terrorists who are using hawala transactions to transfer money. It is being used by several others including corrupt officials and politicians."

Sahni further said India has a flourishing grey market where one can get smuggled goods easily. "If this cannot be controlled then how can the police ensure that one bag of explosives does not get through," Sahni said.
Image: KPS Gill