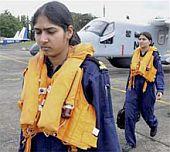 The Indian Navy created history on Friday by inducting two women aviators or combatants into its combat arm.


Sub-lieutenants Ambica Hooda of Haryana and Seema Rani Sharma of Uttar Pradesh will now serve the nation as naval observers. They will serve as airborne tacticians on the Indian Navy's multi-role Dornier aircraft, which are used for transportation and aerial surveillance and work at the front line during war situations.
On Friday, Indian Navy awarded them wings in a ceremonial passing out parade at the Naval base in Kochi.
Both are part of the four member officers of the first short service commission observer course out of the total ten officers passing out of 70th Ab-initio Observer Course in Kochi base.
This would be a special occasion as this is the first time that the Navy is inducting ladies into a combat arm. Observers are airborne tacticians who conduct operations, in a military aircraft.
According to Captain Vijesh Kumar Garg, the Commanding Officer of the INS Garuda, it was a proud moment for the Indian Navy and especially for the two women who were inducted as combatants.
The officers qualified for this onerous responsibility after intensive ground and flight training at the Observers School and said that they felt proud on taking the charge.
The Passing Out Parade and award was presented by Rear Admiral Sudhir Pillai, Flag Officer Commanding, Naval Aviation.
Hooda and Sharma, both 22-years old, completed a 16-month course at the Naval Academy at Mandovi in Goa and in other professional schools of the Indian Navy before landing at the Observer School at INS Garuda in Kochi.

Photo courtesy: Daijiworld