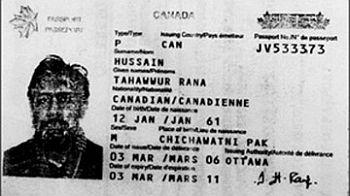 Emerging details of Tahawwur Hussain Rana, a Canadian citizen of Pakistani-origin in custody in the United States on charges of plotting terrorist attacks in India, show he was running a flourishing immigration business.

Though Rana lives in Chicago, the Kanata home he co-owns has been a gathering place for his far-flung family, including relatives spread across the United States and a brother, who is a well-known journalist on Parliament Hill in Ottawa.
Before he became a diplomatic concern, Rana advertised himself as a 'world-famous immigration consultant'. That was last year when the Pakistani-Canadian businessman was just an 'unknown' father of three, who worked out of Chicago while keeping a house in an Ottawa suburb.
The 48-year-old immigration consultant and businessman is at the centre of a flurry of international media attention since his arrest last month by the FBI for plotting terror attacks in India and Denmark.
Rana, who was born and raised in Pakistan, immigrated to Canada in 1997 and obtained Canadian citizenship in June, 2001. He and his wife, Samraz Akhtar Rana, live in Chicago with their two daughters and a son.
Rana and his wife are two of five family members who co-own the house in Kanata, a suburb of Ottawa. But only his father, his brother Abbas and Abbas's wife currently live there.
Abbas has been working for The Hill Times newspaper since 2002. He writes the popular 'Hill Climbers' column chronicling the latest parliamentary staff changes.
He could not be reached for comment but Jim Creskey, the publisher of the newspaper, said Abbas and his family are devastated by the news. Creskey said Abbas has been on leave for the past two weeks caring for his father, who is in hospital and gravely ill.
The FBI suspects Rana was involved in a plot to kill a Danish newspaper cartoonist whose controversial images had offended Muslims.
Rana is also under investigation for a possible link to the Mumbai attacks last year.
Rana's Chicago lawyer, Patrick Blegen, said he is working on a response to the allegations related to Mumbai attacks.  

"It may be that in the relatively near future, I will make a family member or someone available (to answer questions). I can't do it yet because of some court things that are going on," he said.
Meanwhile, a relative of Rana told Times Now from Chicago that Headley was Rana's friend and often visited his home.
"It is some malicious attempt by an enemy against Rana because he is flourishing in business and someone is jealous. Rana cannot indulge in anything like that, he used to help poor and widows, he was so honest," Akhtar said.