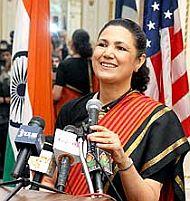 Prime Minister Manmohan Singh's much-anticipated state visit to the United States will be an opportunity to 'consolidate' achievements in the Indo-US partnership and setting 'new directions' in bilateral relationship, India's top diplomat in Washington has said.
Singh will arrive in United States on November 23 as the first state guest of US President Barack Obama. "This will be an opportunity for us to consolidate all that we have achieved in the recent past and turn our progress into a springboard for deepening our cooperation and setting new directions in our relationship," Indian Ambassador to US Meera Shankar said.
"Even as the two countries strengthen growing cooperation in security, counter-terrorism and defense, they will give high priority to deepening economic ties," she said in her address to the Petersen Institute on India's Role in the World Economy and the future of India-US relations.
Besides discussing government initiatives, PM Singh and the US President will meet the reconstituted CEO's Forum to be briefed on how the two countries can expand their economic cooperation.
"We will also increase our emphasis on cooperation in clean and renewable energy, education, science and technology and agriculture. The agenda reflects the extraordinary breadth of our bilateral engagement and the vision of cooperation of our two leaders," Shankar said.
"At heart of their effort will be to create a framework that brings our two people into a closer relationship of shared endeavours, not only be of great benefit to our two nations, but also of value to the entire world," Shankar said.
She noted that India and the US are two nations blessed with talent, enterprise and innovation, with a strong emphasis on science and education and shared commitment to democracy, pluralism, rule of law and individual liberty.
"I see our future economic partnership not merely in terms of trade and investment, but also for finding solutions to pressing global challenges," she said.
Observing that the US has been an important partner for India in the pursuit of its national development goals, she said over the last decade India-US relations have undergone a remarkable transformation, even through election cycles.
This relationship 'stands on the bedrock of shared values and is invigorated by our many converging interests.'
"Our security and defense cooperation has expanded significantly, especially in areas such as maritime security and counter-terrorism. And, the India-US civil nuclear agreement of October 2008 was as much an instrument as a symbol of this transformed India-US relationship," she said.
Image: Indian Ambassador to US Meera Shankar