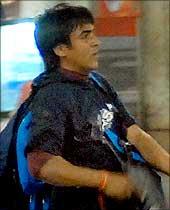 Pakistani gunman Ajmal Kasab has complained to the 26/11 terror trial court that food given to him in jail is laced with tranquilisers but medical experts have said there is no truth in his allegations, special public prosecutor Ujjwal Nikam said in Mumbai on Wednesday.
Kasab had made a grievance before Judge M L Tahaliyani some days ago that food supplied to him was 'drugged' and even produced a sample of rice in a piece of paper to support his allegation, Nikam told PTI.
Taking cognizance of his complaint, the court had forwarded the sample to medical experts for an opinion. "The experts have opined that the rice sample did not contain any tranquiliser," Nikam said.
While defence lawyer Abbas Kazmi said the accused had made such a grievance to the court in his presence, Prosecutor Nikam said "Kasab is a liar and had made baseless allegations to derail the trial." In the last few days, Kasab has been found sitting in the dock with his head down and the usual smile on his lips is no longer visible.

Nikam said the trial had reached final stage and Kasab knows that substantial evidence has been adduced against him. "Hence he is making such allegations to gain people's sympathy," said Nikam. "This is all a drama and he is a great actor," the prosecutor said. Kasab has not only been given military training by the 26/11 conspirators but also imparted intelligence training on how to mislead investigators or authorities if he was caught, Nikam said.
All such techniques learnt by him in Pakistan from the conspirators are now being employed by Kasab to derail the trial, Nikam alleged. The chemical analysis of the sample produced by Kasab clearly indicated that he was lying and exposed his false claims about food containing drugs, Nikam said.
Asked how he had brought the sample of rice, Nikam said he must have taken from the food which is served to him in the cell. Earlier, Kasab had complained to the court saying the food served to him was sub-standard and that he wanted to have 'Biryani'. However, the court told him that he would have to take the same food which was served to other prisoners.
Image: Ajmal Kasab