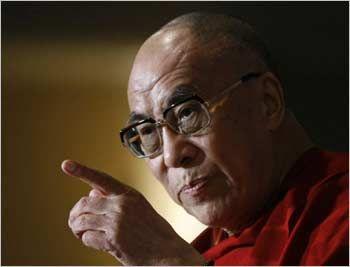 On the last day of his week-long stay in Arunachal Pradesh, Tibetan spiritual leader Dalai Lama underlined the need for spiritual development for peaceful co-existence of different groups of people for establishing a developed and prosperous state.

The spiritual leader said he was active in spreading India's message of non-violence and religious harmony throughout the world.
"I am the messenger of India's ancient thoughts world over," Dalai Lama told an assembly of intellectuals in Itanagar on Saturday.
He said democracy was deep rooted in India because the people had deep respect for the two precious ideals. Even non-believer like 'Charvak' was respected and given the high status of a sage in ancient India.
The Tibetan monk said he considered India as a master and Tibet its disciple as great scholars like Nagarjuna went from Nalanda to Tibet to preach Buddhism in the eighth century.
He said millions of people had lost their lives in violence and economy of many a country got ruined due to conflicts in the 20th century. "Let the 21th century be a century of tolerance and dialogue."
The Dalai Lama will leave for New Delhi on Sunday.