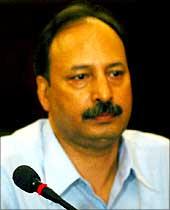 The bullet proof vests, worn by slain Anti-Terrorism Squad chief Hemant Karkare and two other senior officers while fighting terrorists on November 26 last, belonged to the batch of 110 defective pieces purchased by the police way back in 2002, a litigation filed in Bombay high court has alleged.
The petition alleged that a Right to Inforamtion inquiry had revealed that the file pertaining to the purchase of these vests had been lost and was not traceable by the department.
The PIL, filed by social activist Santosh Daundkar, comes in the wake of a claim made by Kavita Karkare, widow of the slain police officer, on the basis of an RTI inquiry that the bulletproof jacket worn by her husband was missing.
The Petitioner said according to the specifications of Defence Research and Development Organisation, a bulletproof vest should stretch from neck to the groin. As against this, the jacket, seen in a video frame of Karkare, indicated that a major portion of his upper chest lay exposed.
As a result of defective vests worn by Karkare, Ashok Kamate and Vijay Salaskar, they were killed when bullets pierced through them, the PIL said.
The petition alleged that the police commissioner's office broke the rules by not testing the vests before purchasing them.
The rules provide for a detailed inspection of the product by an independent body in case of every purchase having security implications.
The PIL said, on December 6, 2001, a tender inquiry was issued by the purchase cell of police commissioner's office for buying 55 bulletproof vests at a cost of Rs 24.71 lakh, from a Pune-based firm NTB High Ceramics filed quotation.
Suggesting irregularities in award of contract, the PIL said on March 30, 2002, the department issued a letter accepting the tender and the same day the firm sent invoice indicating that the material had been dispatched. The tender was finally accepted on June 4 and order placed for supply of jackets.
The PIL further alleged that the jackets were sub-standard because they did not bear the 'ISI' mark to indicate good quality.
The petitioner said Chief Minister Ashok Chavan, while defending the purchase of the jackets, told a television channel that Karkare was killed because of injuries to his neck and head and not the torso.
The petitioner pointed out that the rules provided for purchase of vests that covered the body from neck to groin.
The PIL will come up for hearing in due course, said petitioner's lawyer Y P Singh.
Image: Slain ATS chief Hemant Karkare
© Copyright 2020 PTI. All rights reserved. Republication or redistribution of PTI content, including by framing or similar means, is expressly prohibited without the prior written consent.