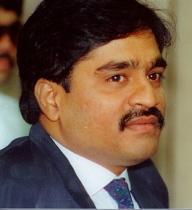 Underworld don and India's most wanted criminal Dawood Ibrahim is the 50th most powerful man in the world, according to the first-ever such list complied by Forbes magazine.
Dawood Ibrahim Kaskar has been ranked at no. 50 in Forbes list of 'The World's Most Powerful People'.
Describing Dawood is as the 'boss of Mumbai-based organised crime syndicate D-Company', Forbes says he reputedly oversees international drug trafficking, counterfeiting, weapons smuggling; suspected Al Qaeda associate; the US declares him a global terrorist, UN tried to freeze his assets'.
Prime Minister Dr Manmohan Singh is ranked at no. 36 (Sonia Gandhi is not on the list), just one notch above the world's most wanted terrorist and Al Qaeda founder Osama bin Laden.
Bin Laden himself is one point above is Syed Yousaf Raza Gilani, prime minister of Pakistan, the country most believe where bin Laden is in hiding.
In some cases there are no surprises. US President Barack Obama tops the list, as he would, and next is Chinese President Hu Jintao. Vladimir Putin, president-turned-prime minister of former superpower Russia is at no. 3.
Pope Benedict XVI is at no. 11, one notch below Bill Gates. Former US president Bill Clinton is at no. 31, but Obama's immediate predecessor George W Bush does not make it to the list.
Industrialist Mukesh Ambani is at 44, Lakshmi Mittal is at no. 55, and Ratan Tata is at no. 59.
Asks Forbes in its introduction: 'Power has been called many things. The ultimate aphrodisiac. An absolute corrupter. A mistress. A musical instrument. But its true nature remains elusive. After all, a head of state wields a very different sort of power than a religious figure. Can one really compare the influence of a journalist with that of a terrorist? And is power unexercised power at all?'
The editors say they wrestled with these questions before coming out the world's 67 most powerful before defining power using four parameters.
One, does the person have influence over lots of people?
Two, the financial resources controlled by these individuals.
Three, are they powerful in multiple spheres?
Four, the choices actively use their power.
All such lists are subjective, but even then, does Dawood Ibrahim meet these requirements while Sonia Gandhi doesn't? What do you think?