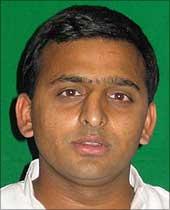 Samajwadi Party leader Mulayam Singh Yadav's son Akhilesh said he would give credit to Congress leader Rahul Gandhi for Raj Babbar's landslide victory in the recent Lok Sabha by-poll at Firozabad.
Bollywood-star turned politician Babbar defeated Akhilesh's wife DimpleYadav by 85,000 votes.
Agony was writ large on the face of the young Yadav scion, who abandoned a career as an environment engineer from Australia to follow his father's footsteps, as he sought to give out his reasons for the devastating defeat of his wife.
"Had it not been for the Congress Yuvraj's plunge into the election campaign, Raj Babbar would have lost the election," said Akhilesh, who not very long ago was anointed  by his father to lead the party in the country's most populous state.
What was, however, strange that through his assertion, Akhilesh was only ending up giving more credence to the popular impression that  the young Gandhi scion's magic spell was paying dividends to the Congress. 
Asked what gave him the grand idea that a political opponent should not be opposing his wife's bid to make her debut in politics, he shot back naively, "Well, if this Congress Yuvraj was busy proclaiming himself as some kind of a champion of the cause of youth , how could he go about campaigning for an old man like Raj Babbar?"
He also said Rahul could have skipped the campaign as a reciprocal gesture to the SP's decision not to field any candidate against him and Sonia Gandhi at the last Lok Sabha election.
While wife Dimple sat adjacent,  it was Akhilesh who did all the talking, except when a scribe made a pointed query about her future plans -- whether the debacle would disillusion her from venturing into the political area?
"Of course, I am not going to give up; I will continue to fight and carve out a place for myself", she asserted, while the husband went on to add, "she is not quitting politics and she is here to stay."
Akhilesh also accused the Congress of ganging up with Bhartiya Janta Party.
"I would also not rule out a conspiracy between the Congress and the BJP , whereby the traditional BJP vote was systematically transferred to the Congress, otherwise there was no way for Babbar to score such a hefty margin," said Akhilesh.